Dr Shashi Kiran Shetty of 'Allcargo Logistics' is 'Chief Patron' of Prajna Counselling
Mangalore Today News Network
Mangaluru, August 28, 2016: Hailing from Bantwal in DK, Mumbai-based Shashi Kiran Shetty, chairman of Allcargo Logistics Ltd, is now the acclaimed 'Chief Patron' while his wife Arati Shetty and City based family member Supriya Shetty were inducted into the Board of trustees of Mangaluru's well known 'Prajna Counselling Center' headed by the much appreciated Prof. Hilda Rayappan. Prajna Counselling Centre is well on a trajectory to boost its multifaceted activities for women, children and the vulnerable in this revolutionary era.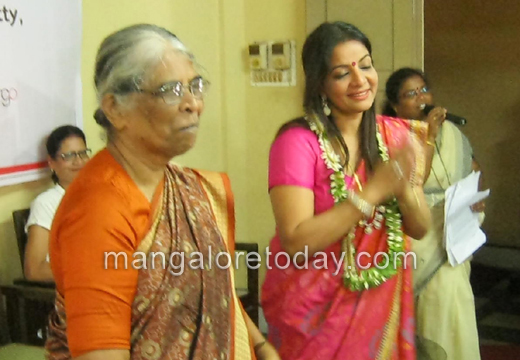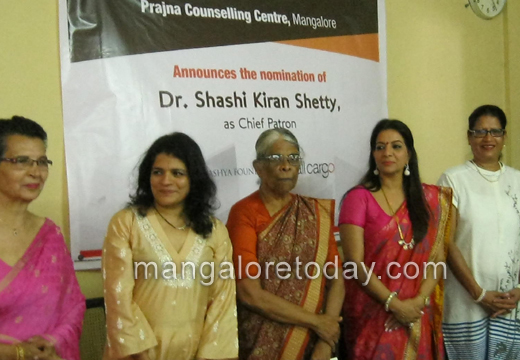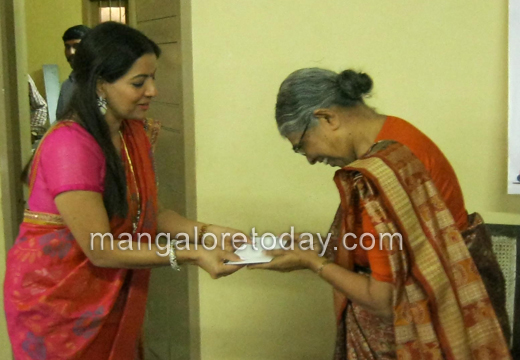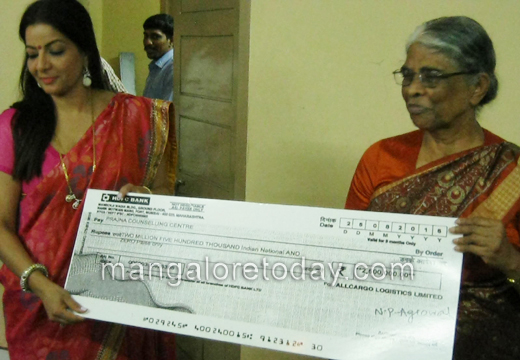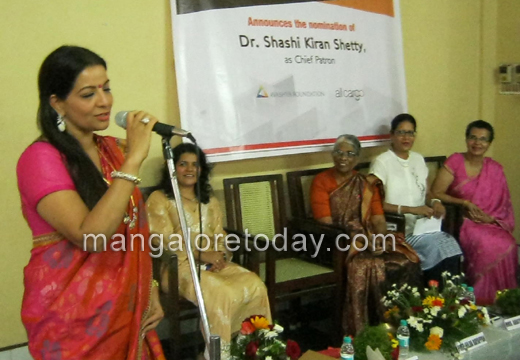 A home function was held at the Centre in Kankanady. Invitees graced the occassion on August 26, the major participants were the beneficiaries, well wishers and staff members of Prajna. A tasteful programme of mutual trust building was organised and many of the residents narrated their experiences on the care, concern and efficiency of Prajna at various levels. Since, Shashi Kiran Shetty could not grace the occasion, his wife Arati Shetty stood in charmingly for him. Several officials from Allcargo Logistics to name some, Prasad, Dr. Nilratan R Shende, Nakre Surendra Shetty of Allcargo/Avashya group CSR, (Corporate Social Responsibility) cell were on hand to give meaning to the event.

The founder Director of Prajna, Prof Hilda Rayappan welcomed the gathering after youngsters of 'Prajna' invoked the Almighty. Prof Hilda stressed that "Dr Shashi Kiran Shetty, Chairman Avashya Group was as you can say 'nominated', Inducted, entrusted.....as the Chief Patron of Prajna from this point in time. The illustrious Dr Sashi Kiran accepted and committed to support in a wholesome manner in possible aspects the development and stability of the extraordinary role of 'Prajna' in the good of the down trodden, abused, tortured and suffering women, children and more. It is only Divine intervention that at a time when I am slowly fading due to age that this miracle has happened. I have no doubt that it is the hand of God and HE never lets down his dependents. Dr. Shetty's team has studied the workings and approved. His wife Ma'am Arati Shetty and family member Supriya Shetty, present here, now are inducted as Trust Board members and I am confident that we can move only forward now."

'Prajna' was started in 1987 as a women- and children-centric organization dedicated for the cause of socially- and economically-deprived people, Prajna has consistently worked for the rehabilitation and empowerment of people such as destitute, marginalized women and children, youth, alcohol and drug dependents, psychologically-challenged and adults/children prone to HIV/AIDS, abused and tortured. The centre reaches out to 25,000 such people on an average annually. It has a minimal staff strength of 90, at any given time there are more than 300 inmates. It was heartening to see these rescued and rehabilitated children particularly singing and dancing with confidence which speaks highly of the care and support they get mentally, physically and materially. Kudos to Prajna, the Supreme powers have come out in force and Dr. Shetty and his team have come in to now take 'Prajna' to new heights fitting to the 21st century. "Solmelu" the Tulu word is just right here.

Ma'am Arati Shetty, better half of the Chief Patron, addressing the gathering after presenting a large cheque to Prof Hilda, said, " It is definitely an honour that we, my husband and his team and my self with Supriya are entering to be part of this noble effort which needs every encouragement. Going into the detailed working of 'Prajna" i for one am convinced that those who are running this institution and Prof Hilda in particular are divinely guided and blessed.....no doubt that will all extend to out team as well now. Supporting more than 300 women and children is a colossal and unimaginable task....but is divinely guided to reach this level in 3 decades. No doubt it has to reach new heights in these modern and harsh times; that is why my husband has taken this initiative and I support him whole hearted.

Nakre Surendra Shetty of Allcargo/Avashya group CSR, detailed the personality of Dr.Shashi Kiran Shetty in realistic terms; Shettyji graduated from SVS College in Bantwal and there after went to Bombay, though he could have remained in the family business here. With his own sweat and hard work he set up a small cargo handling firm in a tiny room in Mumbai with just 2 people from scratch, using the gifts that God had built into him he has grown to a giant of an organisation -acquiring several small and big organisations and even being the first Indian Company to acquire a large European MNC, Allcago has now about 9000 staff and is a leader in the field in more than 160 states world wide, it's turn over is a staggering matter. It is still on expansion and growth trajectory. The awards and citations that Dr.Shetty has been conferred are so numerous that it will be impossible even to attempt a list, but be assured they are of the highest caliber and more are constantly pouring in.

He also went on to give a thumb nail sketch of Ma'am Arati Shetty with two teenage children, a globe trotting high profile husband she has stayed anchored to tradition and heritage, hailing from Karkala and rooted in Mangalore, she was married soon after her studies. She is a very devout lady who keeps many fasts and 'vrats' day to day and her unbounded energy for good is legendary. In the business group she contributes in a multifaceted manner be it
Envioranmental sustainability, Education, Women empowerment, Health care, Disaster relief, Sports......an even keel has been the contribution of 'Arati akka', who maintains a humble profile while flying at a high altitude that is only known to the Gods. Her achievements like her husbands can not be listed in the space available. Lady Supriya Shetty, who will be first hand a Trustee of 'Prajna' has a complimentary profile with her senior family and she will surely prove to be an asset in the management and future of Prajna.

As an integral part of a bonding many of those present who were at present residents of the institution and a few who had passed out of the institution and benefited, spoke on their experiences which were touching and courageous. Several humane persons of the city graced the occasion and it was a homely much appreciated memorable event.

Write Comment
|

E-Mail
|
Facebook
|

Twitter
|

Print