Do you have Paki, Al Qaeda, ISIS friends? - Prof. Narendra Nayak asks BJP candidate Vedavyasa Kamath
Mangalore Today News Network
Mangaluru, May 10, 2018: Prof. Narendra Nayak, who has been spearheading 'Justice for Vinayak Baliga' campaign, has fired a series of shocking questions to Vedavyasa Kamath, BJP's MLA candidate for Mangalore South Constituency.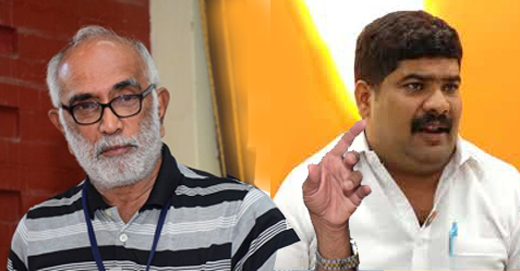 In an 'open letter' addressed to Vedavyasa Kamath, Prof. Nayak referenced Kamath's alleged mysterious disappearance from the city in the heat of the investigations into the murder of RTI activist Vinayak Baliga, who was brutally hacked on 21st March 2016. He also referred to a 'Bon Voyage' advertisement for Vedavyasa Kamath which had drawn everyone's attention at the time and asked Kamath to explain the antecedents of the advertisement. Following is the full text of his volley.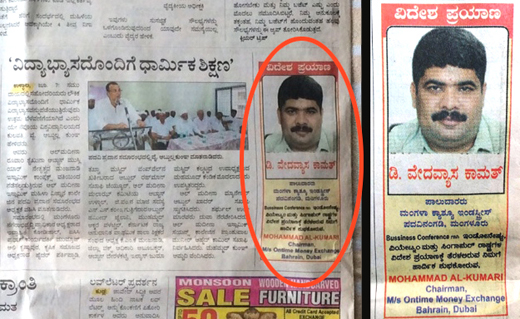 Full Text of Prof. Narendra Nayak's open letter to Mangalore South MLA candidate Vedavyasa Kamath

This open letter is being addressed to you and I do expect an answer in the media for the questions I have raised. Since your close friend and associate Naresh Shenoy has been accused No. 1 in the BJP party member and booth level activist Vinayaka Baliga murder case and you have not raised your voice in protest despite being the president of a unit of the party raises many suspicions.

However, leaving that aside during the time your friend and supporter Naresh Shenoy was absconding and on the run from the police for nearly three months it was noticed by many that you too were out of circulation and doubts were expressed about your whereabouts. At that time an advertisement appeared in page 8 of Udayavani, June 8th about "Videsha Prayana" of course without mentioning any dates of travel but naming the destinations as Indonesia, Vietnam and Singapore. I do hope you have had a good time there.

Strangely the advertisement has been inserted by one Mohammad Al Kumari, Chairman of Ontime Money Exchange, Dubai, Bahrain. Well a search on Google did not show any results for this and hence I had requested some friends in Bahrain and Dubai to look for the same who informed me that they also could not we do hope you will help us with that. While Dubai is a part of UAE, Bahrain is a separate country so I fail to understand how the two got separated by a comma! While the name Mohammad Al Kumari did not yield any results, we would like you to kindly confirm as to who this well wisher of yours was.

While I do not want to cast any aspersions on any community like your party does, it would be fair to demand from our MLA aspirant clear answers to the following questions:

1. Who is Mohammad Al Kumari and what is nature of the firm that he is the chairman of?

2. Is there a possibility that Mohammad Al Kumari is a Pakistani, a member of any
extremist Islamic organisation like Al Qaeda, Isis etc (as you and your party are likely to question any of us and allege funding by outside sources).

3. Please let us also know whether the advertisement was paid for in foreign currency.

4. Since it is claimed that you were travelling to the above mentioned places, though the dates have not been mentioned it would be very kind of you to produce the pages of your passport with evidence that you were really going to these places at that time!

5. If the advertisement is false you could kindly let the voters know as to what action you would propose to take on the matter.

Write Comment
|

E-Mail
|
Facebook
|

Twitter
|

Print