Divo, Kavita trust mark 'Konkani 25th Manyata Divas' in Mangaluru
Mangalore Today News Network
Mangaluru, Aug 21, 2017 : Konkani manyata divas this year, August 20,2017, is indeed special - it marked the silver jubilee of Konkani's recognition as a national language, having been included in the 8th schedule in 1992. In Mangaluru, this was marked in a note worthy manner with 'Divo' Konkani weekly, along with "Kavita Trust", at 'Bishop Jathanna hall" in the KASES campus Balmatta,(Historical Basil Mission compound). Buzzing with Konkani activity topped by a 'Kavi Goshti', recitation of poetry by a cross section of well known local poets including one from the Navayat community, who speak a form of recognised Konkani too.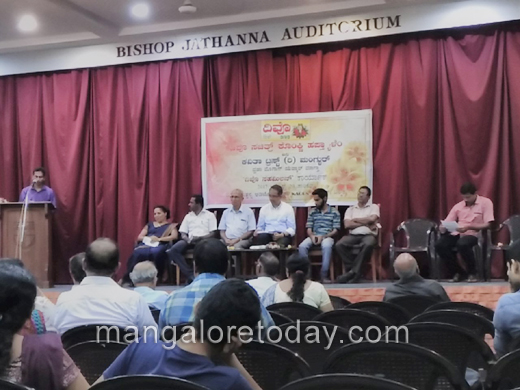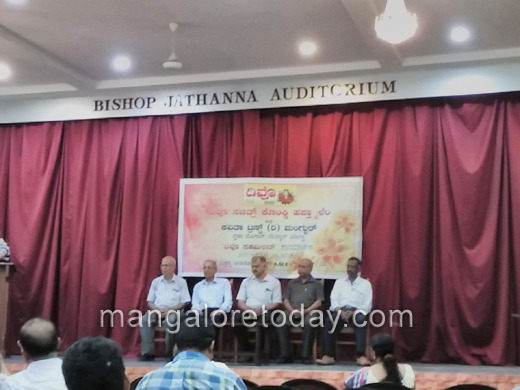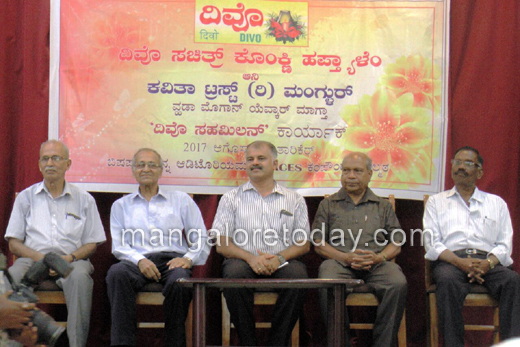 The evening programme was appreciated by the intellectual gathering of Konkani who's-who, specially writers who were recognised for their contribution to 'Divo'. The gracious presence of the stalwarts of 'Divo', Editor Lawrence Coelho and co-editor 'lady' Susan Coelho, brought an unusual glitter to the function. However, Secular Citizen did not figure. The honour accorded to several Konkani writers, it gave all present the rare opportunity of seeing face to face the famous names seen in print in Divo.


Dr. Ronald A Fernandes, bureau chief of Deccan Herald, English journalism guru in the region, Eddy Netto, senior Konkani writer, Dolphy Cascia, senior Konkani editor and writer, Naveen Kulshekar local representative of Divo were the chief guests.
Lawrence Coelho, the chief editor of 'Divo' said, "'Divo' was launched in Mumbai 32 years ago and received massive response from the readers. Many young writers started to write for 'Divo' and now many of them are famous. Along with the publication of the weekly, our team started various career guidance programmes for youth. Today our weekly reaches all corners of India, the Middle East, Israel, Singapore and the United Kingdom. Readers and writers are our strength. Without their support we cannot do anything."
Dr. Ronald Fernandes said, "Konkani now has a number of periodicals. Some are based on only religion and some on social issues. But there is no news-oriented paper. Professionalism is still on the back burner. The importance of research is poor and self opinions abound. Konkani journalism is yet to take a higher profile and form and become better regulated. "
Eddy Netto said, "New ideas must evolve and adapt to modernism. The decrease in readers will affect magazines' circulation and advertisements. Those writing on Konkani in other languages must be appreciated as it has a high potential to spread know-how, senior writers better consider seriously."
Dolphy Cassia stressed that writers should be innovative and up-to-date.
Following the 'Divo' discussions, Kavita Trust, poetry session took over. Moderating the poetry session, founder president of Kavita Trust and poet Melvyn Rodrigues said, "We here are fortunate on the inclusion of our mother tongue Konkani in the 8th Schedule of our Constitution. Many elder Konkani writers did not witness that. They have contributed a lot to our mother tongue. So we have to remember them on every 'Manyata Divas'.

Wilson Kateel, Roshan Bajpe, Vincent Pinto Angelore, Naveen Kulshekar, Stany Bela, Felcy Lobo Derebail, Umer Bhatkal recited their poems during the session.

Write Comment
|

E-Mail
|
Facebook
|

Twitter
|

Print