Did you know you can travel with pets in Indian Railway Trains
Mangalore Today News Network
New Delhi, Aug 05, 2019 : Pet owners in India can finally rejoice as you can start planning your holidays with your pooches in tow, that too by railways. Most pet owners either have to take a car ride to travel with their pets or leave them back at some pet care centre to be tended to. But Indian Railways does have a pet friendly option on its Rajdhani Express. A Twitter user Abantika Ghosh posted a picture of travelling with her two pet dogs in the Sealdah Rajdhani Express. The picture will surely make all pet owners happy and people are loving this pic, leaving happy reactions on the micro-blogging platform as to Yahoo.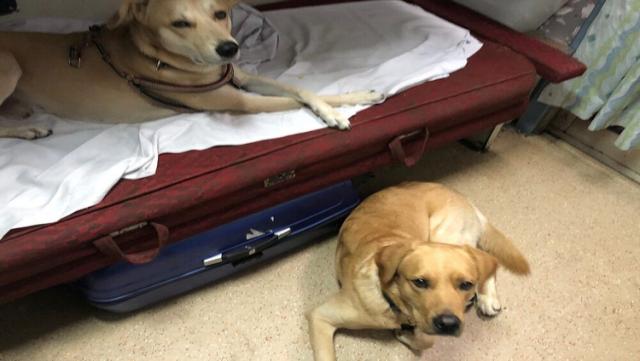 Abantika Ghosh mentioned in her tweet that thanks to the pet-friendly option on the Sealdah Rajdhani Express, she was able to carry her two pooches to Kolkata. The Sealdah Rajdhani Express connects Kolkata to New Delhi. Ghosh wrote, "We just did our first train trip to Kolkata by the Sealdah Rajdhani.

By the looks of it, even the dogs look so comfortable in the train coach. People are leaving some heartfelt reactions on the picture while some inquired how to go about the procedure of carrying dogs in trains?

Several users commented that they were unaware of such an option that exists on Indian Railways. Abantika also mentioned that, a pet owner should carry vaccination cards and doctors certificate for the dogs with them. Well, it is indeed a great provision that is made available and more express trains should be included with this option. There are a specific rules that pet owners should abide by and the provisions are given on Indian Railways official website.

Write Comment
|

E-Mail
|
Facebook
|

Twitter
|

Print