Diceasan priest Fr. Archibald J Albuquerque, PP at Neerude parish passes away
Mangalore Today News Network
Mangalore, Aug 20: According to information from the Diocese of Mangalore, parish priest of St Roque Church, Neerude passed away in the early hours of August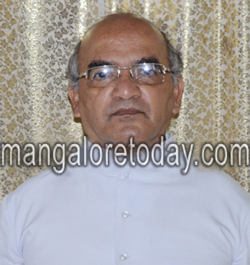 20 at due to a massive heart attack. He was 62.
Fr. Archie was a popular rpiest among his flock - Born on August 15, 1953 to Aloysius and Lily Albuquerque of Derebail, Fr Archibald was ordained priest on April 22, 1981.
He served as assistant PP, Karkala town in 1981-'82, and of Bejai between 1982 and 1984. Later he was parish priest of Borimar (1984-1991), Basrur (1991-1997), Nirkan (1997-2004), Manjeshwar (2004-2005), Badyar (2005-2012), Nakre (2012-2013) and Neerude from 2013 o date.
As per tentative information his funeral will take place at St Roque Church, Neerude, on August 22, Friday at 10.am.

Write Comment
|

E-Mail
|
Facebook
|

Twitter
|

Print