Dengue fever in Udupi; many new cases reported
Mangalore Today News Network
Udupi, Jan 4,2016: Many persons from Kodankooru new colony, Rajaji Nagar and from SE colony at Kodankooru ward under the Udupi city municipal council (CMC) limit have been hospitalized with dengue fever. In one of the families, out of six members, four have been admitted for dengue treatment.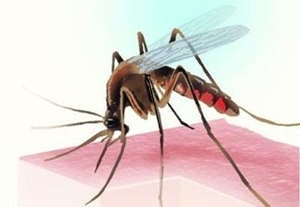 The ward has 150 houses at new colony, 45 houses at SE colony and around 75 houses at Rajaji Nagar. These slum areas are thickly populated. People live here on 3 or 5 cents of land provided by the government. They have been given basic facilities like inter-locked roads, drainage facilities, toilets etc. Though they are given awareness on cleanliness, they are ignorant towards it, said Ganapathi Shettigar, former CMC member of Kodankoor ward.

CMC and health deparment is extending maximum help to control dengue. Open drainages are being connected with underground drainage system so that surface becomes clean and the process has already started from Friday, he added.

These people depend upon water supplied by the municipality, which according to them are irregular (as it is high line area, the pressure of water is not enough to reach these colonies). Many of them collect water and store water and use it after two to three days.

DHO Rohini said, "The first dengue case was reported in November first week at Kodankooru area. Health department has immediately taken preventive measures by fogging, cleaning the drainage and creating awareness about the disease and distribution of medicated net to the families in the area."

Dengue mosquito breeds in clean water and man-made containers. They either do not close the collected water or close it partially or with broken lids. This leads to the mosquito breed and spread the disease. According to the Guidelines for National Vector Borne Disease Control Programme (NVBDCP), NS1 antigen test for early stage and IgM antibodies for serious dengue cases, both are ELISA-based test which is tested at Manipal Centre for Virus Research and at Ajjarkad, Udupi. Only two cases have been confirmed. Many have taken the tests at other private hospitals, said K Premananda, district vector-borne diseases control officer.

One engineering student from new colony, Kodankooru, said "I could not write my exams as my family members were admitted in the hospital. The problem could be solved only by giving regular water supply in our area. Whatever is the hurdle to distribute water should be solved at the earliest. The irregular distribution of water is forcing us to store it for two to three days."

This year, rainfall in the district has been reported less, hence, the water crisis may increase during summer and people may store water for their use. Public not to keep stored water open or half closed. Make efforts to close it with an air tight lid. Also, once a week, wash the container in clean water and dry it in sunlight for a day.

Write Comment
|

E-Mail
|
Facebook
|

Twitter
|

Print