Demonetisation: Real estate customers expect big cuts, clarity awaited
Mangalore Today News Network
Mangaluru, Nov 25, 2016: One of the major revenue earners for the state government, stamps and registration duty from property transactions, has come down sharply after demonetization of Rs 500 and Rs 1,000 notes. The sale deed registration in city corporation limits has come down by a whopping 98% after November 8, according to sub-registrar's office here.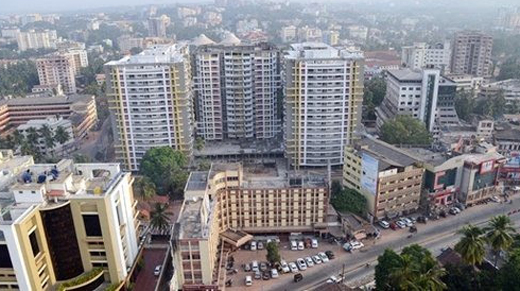 A source at the sub-registrar's office said though the office deals with other registrations like mortgages, settlement, the major revenue earner is property transaction. "Every month this office used to collect a revenue of Rs 12 -15 crore from registration of sale deeds. But this month the revenue may not even cross two per cent of that amount," he said. Sale deed is the document by which the seller transfers his right to the purchaser, who, in turn, acquires an absolute ownership of the property.

S Mohan Naik, sub registrar, admitted that demonetisation has had a telling effect on property transaction. "The sale deed registrations are just two per cent of the earlier numbers," he said. The office has about 800 registrations of which 30% are sale deeds. This time from November 8 onwards the registrations have halved from the figures seen in the first week of the month.

The rural sub registrar's office which executes sale deeds of property transaction outside the city corporation limits and Mangaluru taluk has also seen a 50% dip. KP Nanjesh, sub registrar, said there is a sharp decline in number of sale deed registrations post demonetisation. "From the beginning of the month, as many as 159 documents have been registered and the revenue collected is Rs 2 crore," he said indicating in normal times the registrations would have been two times more.

So does this mean that real estate is seeing the negative effects of demonetisation? D B Mehta, president of CREDAI Mangaluru, admits that new land registrations and sale of ready to occupy apartments has seen a slow down as there is a lot of confusion prevailing in the market. "The sale of ready to occupy apartment has been affected as customers are asking for very deep discounts which does not even come close to book cost of the builder," he said blaming unwarranted publicity that prices will fall by 40% post demonetization.

Giving the mathematics of why apartment prices cannot fall beyond five per cent, Mehta says the land value comprises of 30% to 35% of the project cost. "Land transaction has 40% to 50% black component. Even if land cost falls down by 20% to 25% post-demonetization, it will only reflect about seven to eight per cent of the project cost. So the total impact on sale price of an apartment is five per cent. But public expect 20% -25% discount, which is unrealistic. When people realise this, they will start buying. Right now the confusion is too much and the customers and builders will have to wait till the dust settles," Mehta noted.

Ads for standing in queue : Several citizens are stumped by advertisements offering to exchange old Rs. 500 and Rs. 1,000 notes for new currency with a commission. However, calls to these number revealed that it was a prank. A person who works in a pharma company, has been getting close to 30 calls every day from people desperate to exchange old Rs. 500 and Rs. 1,000 notes. "I am so irritated with the calls that I had switched off my phone for two days. I do not know why and how someone put my number in these advertisements," he said.

Write Comment
|

E-Mail
|
Facebook
|

Twitter
|

Print