Deepotsava splendour to highlight Mangaluru Dasara
Mangalore Today News Network
Mangaluru, Oct 18, 2018: 'Deepotsava', the festival of lights on Vijayadashami is an indispensable part of the celebrations at the Acharya Mutt premises of the Sri Venkatarama Temple in Car Street, and a befitting culmination to the Navaratri festival. The Navaratri or 'Sharadotsava'(where Goddess Sharada is worshipped in a traditional way) at Acharya Mutt has a history of 95 years. 'Deepotsava', with thousands of oil lamps illuminating the corridors of the Acharya Mutt is expected to be more brilliant this year.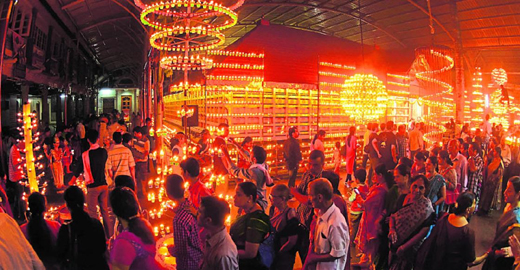 The Sri Sharadotsava committee member Ganesh Baliga said that since Vijayadashami reflects the victory of goodness over evil, the Deepotsava signifies wiping away ignorance and sorrow, to usher in knowledge and happiness.

The unique idea of a Deepotsava for Vijayadashami became a reality in 2009. Sri Venkataramana Temple chief priest Jodumutt Bhaskar Bhat, late Venkatesh Acharya of Acharya Mutt and Adige Balakrishna Shenoy provided the traditional and creative framework for a team of 60 volunteers.

"The number of volunteers has doubled, with women too participating. They enhance the celebrations with splendid rangoli patterns with earthen lamps," Baliga said.

On the eve of Vijayadashami, tall lamp stands are assembled at the 'Rajangana' of the temple by welding iron rods and glass holders in metal frames. The biggest stand contains about 400 glasses. The lamp stands are assembled in the corridor in front of the idol of Goddess Sharada. There are also hanging lamps supported by chains. The lamps brighten the roof as well.

Each lamp stand is designed to be different from the other. Lamp stands swinging with the help of an electric motor, the rotating lamp with its striking effect, the multi-hued glasses (a pinch of colour in water is added to the lamps) reflects the team's creativity.

"To avoid glass lamps from cracking due to high temperature, water is added to the lamps. Over 1,200 litres of gingelly oil is used. Around 90% of the oil is donated by devotees. The cost of the materials including the stands, glass lamps and wicks is around Rs one lakh," Baliga informs. Wicks dipped in oil on the previous day are placed in glasses using clips.

After the pooja, the lamps are lit with the 'aarti' offered to the Goddess. Devotees too get an opportunity to light the lamps. The divine atmosphere is exemplified when the deity is seen in the light of oil lamps.

Other Sharadotsava and Ganeshotsava committees are organising Deepotsava in a similar manner.

Write Comment
|

E-Mail
|
Facebook
|

Twitter
|

Print