Dakshina Kannada District may house new dengue strain
Mangalore Today News Network
Mangauru, June 06, 2017; Dakshina Kannada the virus DENV-2 and DENV-3 are found. District health officials said that if a person infected with DENV-2 and DENV 3 is infected by DENV-1 or DENV-4 strains, it leads to complications like a life-threatening syndrome called Dengue Hemorrhagic Fever (DHF) or Dengue Shock Syndrome (DSS).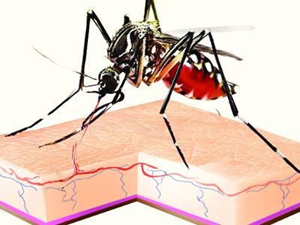 The suspicion of DK district health officials about a different serotype of the dengue virus being prevalent in this region has been confirmed. They found the DENV-1 in places earlier affected by only DENV-2 and DENV-3 strains of the virus.

Meanwhile, dengue has been confirmed as the cause of death of a woman at Yedamangala last week. The tests results showed immunoglobulin positive. The case would be presented before the death review committee here and the findings will be sent to health officials in Bengaluru to officially declare the death as dengue positive.


Regarding the new serotype found in the district, district malaria officer Dr Arun Kumar said of the five samples from Punacha village in Bantwal taluk, four were DENV-1 and one was DENV 3. He said people have to be careful about vector-borne diseases and this calls for increased caution.


Dr Rajesh BV, district surveillance officer, also said protection is the best bet against vector-borne diseases. He said with no source reduction, a primary responsibility of individuals, domestic and peri-domestic breeding is rampant, especially in rural areas. He said unless individuals take responsibility for source reduction, control of this vector-borne diseases is difficult.


Dr Rajesh said: "In rural areas, it is difficult to control breeding since there are plantations and forest which are breeding grounds for mosquitoes. Even in the city, coconut shells and empty bottles are the main places of mosquito breeding and they reappear once the awareness levels goes down. Unless people understand the gravity of the situation, the situation will not get better."

Write Comment
|

E-Mail
|
Facebook
|

Twitter
|

Print