DYFI, CPM for high-level probe into UGD works
Mangalore Today News Network
Mangaluru, Dec 23, 2017: Briefing media on Dec 22, Friday, Dakshina Kannada DYFI and CPM have demanded a high-level probe into the failure of underground sewage network laid in Surathkal and in parts of Mangaluru, by drawing Rs 360 crore loan from the Asian Development Bank (ADB).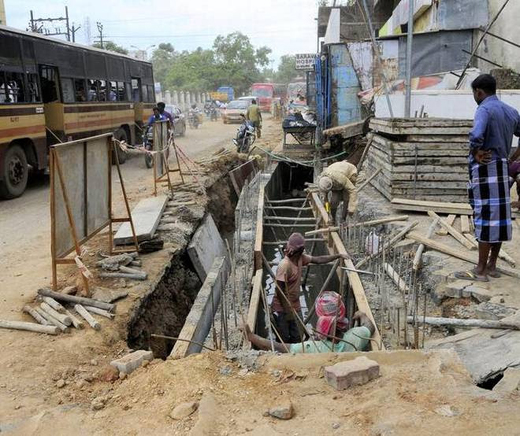 DYFI state president Muneer Katipalla said that by availing Rs 360 crore loan, the MCC had taken up UGD works in Surathkal, Kavoor and Bajal areas in 2002 through KUIDFC. However, when the UGD systems were handed over in 2016, several pipes had already broken and there was seepage in the network at many places. Pipelines laid underground were uneven. The network had polluted the areas as sewage was flowing into open drains and wells.

Claiming that this is the "biggest scam" in Mangaluru City Corporation limits, he demanded action against erring officials, contractor and the consultant company for this failure.

He also urged authorities to blacklist the contractor and consultant company who had taken up the work under the first phase of the ADB-funded project, till the probe is complete.

As per the ADB loan conditions, the MCC has initiated partial privatisation of water supply system, removal of public taps and hike in property tax under SAS to mobilise resources to pay the loan borrowed. The citizens are also paying UGD cess. With the faulty system, the residents cannot link their houses' sewer lines to manholes. As a result, sewage is left open in drains in Surathkal area. Being a fast growing town, the lack of UGD facilities in Surathkal will hit people hard. UGD works in Bajal is ready. However, the homes have not been linked to manholes due to the poor quality of works.

The silence of Mangaluru North MLA Mohiuddin Bava and Mangaluru South MLA J R Lobo has raised suspicion. Though the Minister for Urban Development, Roshan Baig promised to hand over the issue to CID, he said: "we will not keep quiet with only a promise. All those who were responsible for faulty systems should be punished. If the government fails to initiate any probe, then we will intensify our protest in the future," he said.

Under the second phase of the ADB funded project, the MCC has earmarked Rs 100 crore for UGD works and upgrading of drainage pipes. A sum of Rs 38 crore has been earmarked for laying UGD lines in Thiruvail, Angaragundi, Kudumbooru and Kodikkal areas. However, it is shocking to note that the same old consultants and contractors have received the contract for the work, he said and demanded a new tender for the work.

Write Comment
|

E-Mail
|
Facebook
|

Twitter
|

Print