DL suspension delay nullifies impact, Police chief takes a call
Mangalore Today News Network
Mangaluru, Mar 10, 2018: The efforts of Mangaluru City Police to rein in erring private bus drivers go in vain, as the Transport Department does not act immediately upon its recommendation to suspend driving licences and permits, said Police Commissioner T.R. Suresh.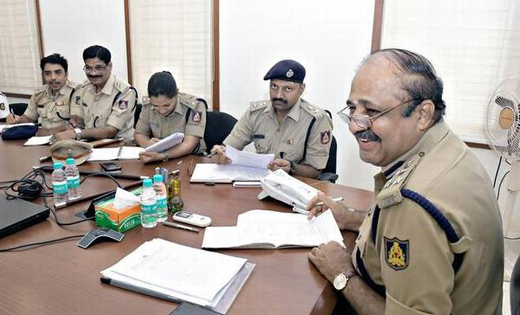 It takes about three months for the transport department to order suspension of the driving licence from the date of recommendation. Thus, the three month-suspension lapses by the time the order is passed, the commissioner said during an interaction with reporters here after the weekly phone-in programme.

In such a situation, it becomes difficult to instil the fear of law among motorists who drive recklessly. The traffic police have regularly been booking cases for rash and negligent driving, jumping signals, halting at non-designated places etc. But the violations continue, he regretted.

One reason for lawlessness among bus crew is majority of owners (permit-holders) have sub-leased buses to the crew, and thus have little control over the operations. The crew, who pay a fixed sum to the permit-holder, operate the bus at their will. It's illegal to do so, and the transport department has to act, city police chief Suresh said.

Admitting that there have been delays in ordering suspension of DLs and permits, in-charge Senior RTO, Mangaluru, G.S. Hegde said it was because the due process of law as mandated by the Motor Vehicles Act has to be followed.

As per law, the department has to provide reasonable opportunity to the person to defend himself/ herself before action is initiated.

Many a time, notices return without being served, thereby delaying the process. Besides, the RTO is functioning with below half its sanctioned strength, RTO Hegde said.

If the Transport Commissioner issues a circular empowering RTOs to suspend DLs and permits merely upon police recommendation, the department can act swiftly, he said. Hegde said he would take up the issue with higher authorities.

Police to take action against speeding buses


City Police Commissioner T.R. Suresh on March 9, Friday said the police will initiate stern action, including seizure of buses, if operators continue to indulge in overspeeding and don't halt at designated bus bays.

He was responding to a host of complaints regarding violation of rules by private bus operators, during the weekly phone-in programme here.

Bhat from Pumpwell said buses going out of the city used to halt at the designated bay near Karavali Circle for some time when police initiated action. However, buses are now again stopping just after the junction thereby preventing the smooth flow of traffic.

Across the city, this has been the problem where buses halt very close to traffic junctions, he said urging the police to rein in the operators.

There were also complaints of buses moving slowly to pick up passengers in the heart of the city, and later overspeeding to regain lost time. The commissioner said action would be taken against such practices.

It was not just private buses against whom complaints were received; a few callers complained of irregular services by KSRTC's JNNURM city buses. They stop operation after 7.30 p.m., a caller said, to which the commissioner said he would issue directions to KSRTC officials.

A few callers spoke of autorickshaws parked illegally on the footpath near Karavali Circle (Kankanadi). There is a full-fledged autorickshaw parking facility on the other side of the junction, they said.

Fish truck menace : A few callers, including Nemu Kottary from Jeppu, regretted that despite repeated complaints, police are unable to contain the menace caused by waste water falling from fish trucks. Mr. Suresh said police have booked cases in this regard.

Write Comment
|

E-Mail
|
Facebook
|

Twitter
|

Print