DK fishermen panic over 'tar balls' on shores
Mangalore Today News Network
Mangaluru, Apr 26, 2019: Tar balls that are washing up ashore may end up driving schools of fish away from the coast.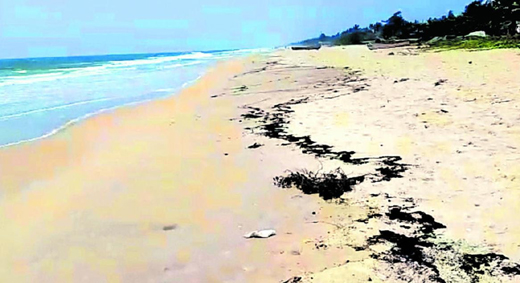 Fishermen face a real fear after 'Tar Ball' are deposited along the regioal coast and expressed fears that fish may avoid such areas - the fishermen voiced this fact on April 25, Thursday.

The substance resembling semi solid, black tar found on the beaches in Panambur and Surathkal, sticks to the feet of those walking on the beach barefoot.

"The tar ball deposition on the beaches is phenomenon seen during the peak of summer just before monsoons," Panambur Beach Tourism Development Project Chairman Yathish Baikampady stated.

The tar balls have been found scattered on the beaches in Mangaluru since April 22. A case of oil leakage or discharge from the foreign vessels arriving at New Mangaluru Port was suspected initially, Baikampady said.

He added that he had written a letter to DK DC on minimising the damage to fishing and marine ecology. Baikampady said he had already appealed to the DC on directing coast guards or pollution board officials to take remedial measures.

"The concerned authorities should act, as the pollution would destroy marine flora and fauna," Yathish added.

DK DC Sasikanth Senthil clarified that tar balls on the beaches were not the result of oil spillage from the ships sailing on the sea. He said he had spoken to Deputy Inspector General S S Dasila, Commander, Coast Guard (Karnataka) as ICG is the nodal agency to look into the issue of oil spillage.

DC Senthil said he had also written a letter to the ICG commander. The ICG has been asked to sensitise all fishermen to intercept any huge chunk of oil particle found in the sea. It is a phenomenon which takes place across the Indian coast, including Kerala, Maharastra and Gujarat, during the season. There are possibilities of oil globules being carried by the currents, to the Indian Coast from other areas the DC said.

Karnataka State Pollution Control Board District Environmental Officer Rajashekhar Puranik confirmed that the pollution was not due to the industrial affluent. The affluent discharge system and effluent treatment plant installed by MRPL, BSF and MSEZ were being continuously monitored by the Pollution Control Board through its website.

Karnataka State Fisheries Development Corporation (KSFDC) former president Ramachandra Baikampadi said that the incident had become a regular feature since many years. There could only be two possibilities - waste oil discharge or leakage by ships or the affluent by the industries or the industrial waste directly being released into the sea without being treated at the effluent treatment plant (ETP).

"This is the fishing season and the tar balls washing ashore results in the migration of fish population making it bad for fishermen, who end up getting a meager catch", Ramachandra observed.

Write Comment
|

E-Mail
|
Facebook
|

Twitter
|

Print