DK PUCL observes 40th anniversary on October 17
Mangalore Today News Network
Mangaluru, Oct 18, 2016: DK unit of People's Union of Civil Liberties (PUCL) held it's 40th year anniversary on Monday. Oct 17 at Sahodaya hall. The topic and focus was "Sedition Law, use and misuse by Govt". On the occassion a photo of Late David D'Souza, past President of PUCL was unvield.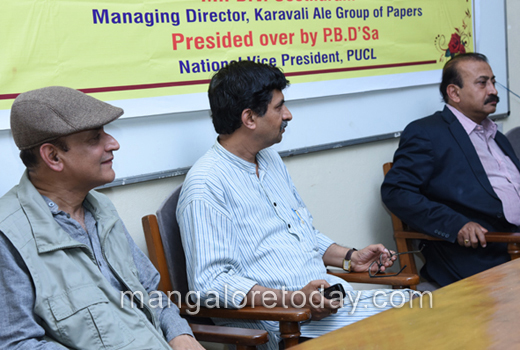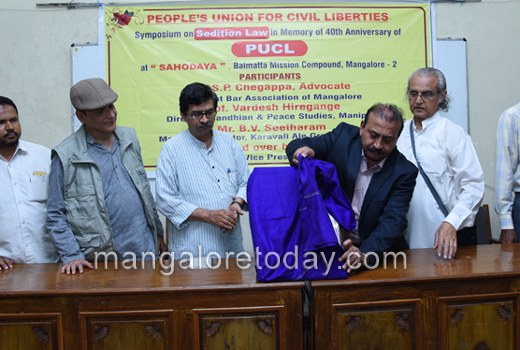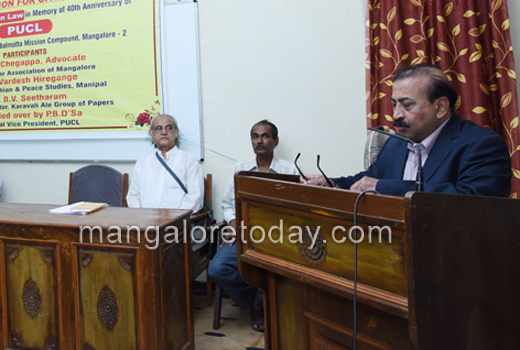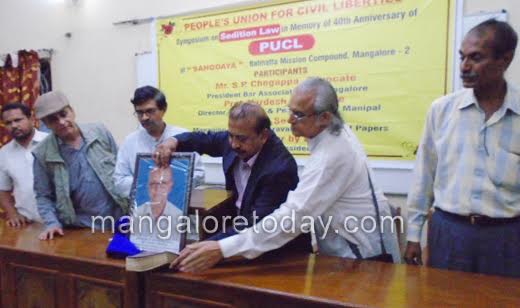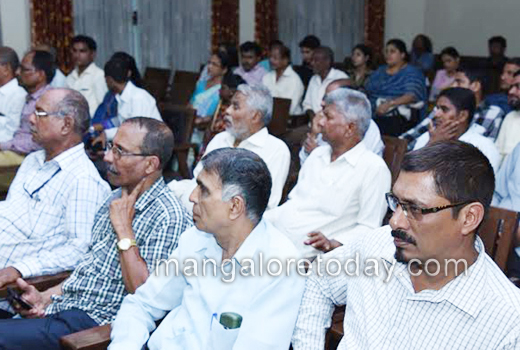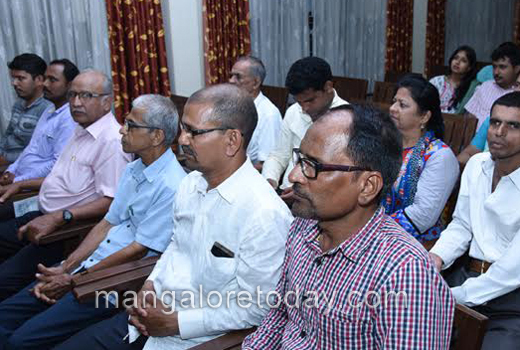 Speakers of the day was Chengappa, Advocate and President of the DK Bar Association, Prof Vardesh Heregange of Centre for Gandhian & Peace Studies, Manipal, B V Seetharam MD Karavali Ale Group of Publications and P B D'Sa National Vice Pres PUCL spoke extensively on the topic. M Kabeer, President and A Rodrigues Secretary of DK PUCL, were present.

PUCL: Veteren leader Jaya Prakash Narayan (JP) founded the People's Union for Civil Liberties and Democratic Rights (PUCLDR), in 1976. The idea was to make the PUCLDR. An organisation free from political ideologies, so that people belonging to various political parties may come together on one platform for the defence of Civil Liberties and Human Rights. A national seminar was held on October 17, 1976. It was inaugurated by Acharya JB Kripalani. The PUCLDR was a loosely organised group of people who were working with JP. V M Tarkunde was elected President and Krishna Kant General Secretary. The Emergency was lifted in 1977.

Sedition law Sec. 124A IPC: Routinely abused to silence ordinary citizens, muzzle free speech, intimidate anyone even remotely questioning government and state policy and brutally ensure that citizens conform to what is considered politically right by the ruling political elite and establishment. Sec. 124A IPCwas made by the British government to crush and silence freedom fighters during the independence struggle and had been famously used against Mahatma Gandhi and Balgangadhar Tilak, both of who were convicted for 6 years under this law.

For the last 100 years, both the colonial British state and indep endent Indian governments have used anti-sedition laws as a tool of repression to silence anyone from questioning their actions. This draconian law has been invoked

earlier against author and activist Arundhati Roy, well known doctor and PUCL National Vicee President Dr. Binayak Sen, journalist Seema Azad and cartoonist Aseem Trivedi. PUCL strongly believes that Section 124A is an archaic and repressive law which has a chilling effect' on freedom of speech and expression of Indian citizens as enshrined in Article 19 (1)(a) of the Indian Constitution. As long as it is in the law books it will continue to be abused to silence dissent and prevent challenges to ruling interests. Jawaharlal Nehru made a promise to the nation in India's First parliament that sec. 124A IPC is unacceptable and that the law will be repealed. PUCL has been demanding not just the repeal of sec.

124A IPC but also clones of the law in other statutes like the Unlawful Activities Prevention Act.The three erudite guest speakers of the evening gave a very good insight into the effect and reason for declaring as 'Ultra Vires' and scrapping this draconian law now even more misused in recent cases.


Late David D'Souza, past President of DK PUCL, photo unvield:
The Karnataka PUCL Vice President P B D'Sa, a veteran PUCL and human rights activist in the region recalled then case of David D'Souza, the Dakshina Kannada district president f People's Union for Civil Liberties (PUCL) last year. David was on a visit to the rural police station when he collapsed inside the station on Thursday July 2, 2015 and died later in a private hospital in the city.
One Stanley requested David to accompany him to the police station. Cynthia, who was present at the police station, accused David of misleading her husband. Reacting to this David turned angry. The police claimed that police inspector, Pramod, tried to calm down David by advising him not to interfere in the family matter. The police said they asked David to go out of the station. David, who was a heart patient, collapsed after shouting at the police and others. The family of the deceased thereafter approached Kadri police station, saying that they had suspicion about the cause of David's death. PUCL leaders submitted a memorandum to then city police commissioner S Murugan alleging that their district president met custodial death. In view of the complaint, post mortem was done and video recorded in the presence of the tahasildar. However, the investigations have not yet reached anywhere and matters are dragged from pillar to post even without a copy of the postmortem reports being made available. PUCL regrets the state of this investigation where it is a grave miscarriage of justice.


Write Comment
|

E-Mail
|
Facebook
|

Twitter
|

Print