DC Ibrahim on exclusive use of eco-friendly Idols
Mangalore Today News Network
Mangalore, Aug 26, 2014: In a press release, DK Deputy Commissioner A B Ibrahim has advised people to be eco-friendly while celebrating the Ganeshachaturthi festival. He has said that the idols of lord Ganesha should be made out of clay and not of plaster of paris.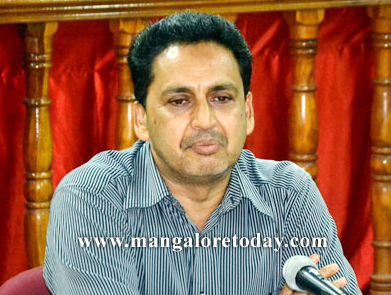 The idols should have natural colours. Before immersing the idols, flowers and other decorative materials should be removed and they should be dumped in the bins earmarked by the civic authorities. The decorative items should not be burnt. The release said that the decorative materials should not be thrown on the roads and open drains.
The guidelines said the authorities should use LED/CFL bulbs at the pendal and the generators if used its sound should not disturb others. The organisers should ensure that wires of generators are not left on the wet ground.

Police Guidelines : In a separate press release, City Police Commissioner R Hitendra said that no organiser should raise funds forcibly from the public. The pendal should be erected in such a way as to facilitate the easy movement of fire service and ambulance vehicles in case of emergency. The pendal materials should not be tied to the electric and telephone poles.

Ganesha festival organisers should take permission from the local authorities before installing Ganesha idols. The police permission was a must for putting up pendals and other temporary structures. All rules regarding the use of loudspeakers should be followed.

All precautionary measures should be taken to avoid any possibility of short circuit. For security reason, CCTV cameras must be installed in all pendal. No mantapa or pendal should obstruct the movement of vehicles on roads. Fire extinguishers must be kept compulsorily in all pendals. Displaying of obscene posters and playing songs or dialogues creating communal hatred or hurting the sentiments should be avoided.

Cooking near the pendal is not permitted. While bursting crackers the organisers should ensure that it does not create nuisance to others. The procession of the Ganesha idol should pass through designated route.

DJ sound system should not be used. No slogans against other religions should be made during the processions. Enough lights should be installed at the parking space and the place where idols are immersed in water. The tableaus during the procession of Ganesha idols should not hurt the sentiments of the people. The emphasis on harmony and discipline was projected.

Write Comment
|

E-Mail
|
Facebook
|

Twitter
|

Print