Customs seizes contraband valued Rs 2.36 Cr at MIA during 2017-18
Mangalore Today News Network
Mangaluru, Nov 02, 2017 : During the current financial year (upto October 2017), the Customs Officers at Mangaluru International Airport seized contraband valued about Rs.2.36 crores in 35 cases of smuggling. The seizures include hitherto undetected cases of live plants and plant products attempted to be cleared without complying with plant quarantine regulations. The details of contraband-wise seizures show diverse modus operandi and the endeavours of smugglers to hoodwink the department.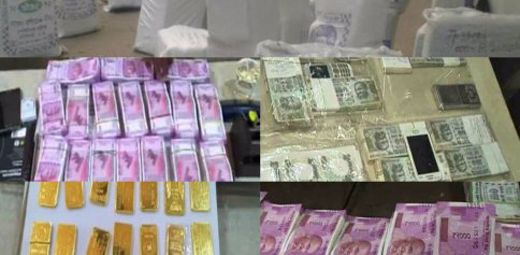 Gold cases : The officers have seized 5.224 kilograms of gold in 11 cases valued at Rs.154.64 lakhs which was attempted to be smuggled by concealing it on their person or in their personal effects. Out of these, on 22.10.2017 one passenger had concealed 1 kilogram gold powder made into a paste by mixing with chemicals and had worn as ankle pads on both his legs. He was arrested and produced before the Magistrate, who remanded him to judicial custody. In an earlier case, on 29.08.2017, four tola bars of gold totally weighing 466.520 grams were found to be concealed inside the inner sole of shoes and worn by a passenger. Other methods adopted to ingeniously conceal gold were in the form of chromium coated belt buckle, chromium coated amulet (khada) and chromium coated coverings of beads strung together in the form of a chain.



Foreign Currency : On gathering inputs that there is a surge in smuggling of foreign currency by passengers departing to middle east countries, the officers kept special watch on movements of certain profiled passengers. This resulted in detection of 12 cases involving seizure of assorted foreign currency equivalent to INR 68.73 lakhs that was attempted to be smuggled out.


Ganja: On inputs received, two cases of ganja (cannabis), a narcotic drug were detected involving 4.5 kgs and 4 kgs. which were attempted to be smuggled out. In one case, the passenger arrested was remanded to judicial custody while the other was handed over to police authorities for further action.


Plants and Plant products: In one rare instance at Mangaluru International Airport, live flower and fruit bearing plants carried by a passenger on arrival were detected and stopped from being cleared. As per the orders of the Directorate of Plant Protection, Quarantine and Storage, Ministry of Agriculture and Farmers Welfare, any passenger arriving from abroad, is required to declare plant or plant products (that include live plants, seeds etc) for Plant Quarantine Inspection. Further, clearance of live plants or seeds meant for propagation purpose is not permitted at Mangaluru International Airport as per the Plant Quarantine (Regulation of Import into India) Order, 2003.



Miscellaneous Goods : Other contraband seized in 10 cases include saffron totally weighing upto 1.775 Kg and valued at Rs.2.89 lakhs; 8984 pouches of RMD Gutka valued at Rs.3.83 lakhs, cigarettes of different brands of foreign origin and smoking tobacco totally valued at Rs.5.89 lakhs.


During this period, 2,41,463 passengers i.e 97.86% of the total passengers had opted for Green Channel and Customs duties of Rs.2.93 crores was collected from 5275 passengers.


Write Comment
|

E-Mail
|
Facebook
|

Twitter
|

Print