Culture and tradition are underscored by inscriptions
Mangalore Today News Network
Udupi, May 27, 2018: Speaking after receiving the 2018 Thalthaje Keshava Bhatta Award at a programme organised by Rashtrakavi Govind Pai Research Centre and Manipal Academy of Higher Education here on May 26, Saturday, Veteran researcher Dr Devarakonda Reddy said cultural heritage of Karnataka has been bestowed with the unique share of inscriptions.

Dr Devarakonda Reddy said inscriptions are a blend of politics and culture. The unique legacy of the heritage also focuses on the political aspects of history, he added.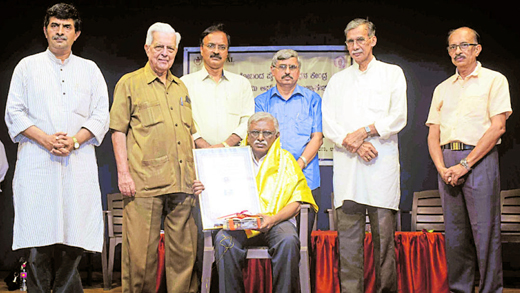 He lamented that although the inscriptions are a major source of knowledge, people lack knowledge of using these inscriptions.

Elaborating on the importance of the inscriptions, the veteran researcher said that inscriptions are the epitomes of culture and tradition.

Writer Dr H G Sridhar said Devarakondareddy is an outstanding person who has dedicated himself to the research of the ancient inscriptions. He is carrying forward the heritage of understanding the in-depth realities of inscription culture, Sridhar added.

Delivering a talk on Jain tradition on the occasion, scholar Dr B P Sampath Kumar elaborated upon the imagination of the concept of Bhavavali.

He said Bhavavali is an important concept in Jain theology and it is used as a creative device to achieve various goals in Kannada literary works composed by Jain poets. The description of previous births of Thirthankaras in a chronological order is called Bhavavali.

In Jain philosophy, it is believed that the Jeevatma, while attaining Jnana, ascends from lower birth to higher birth and finally attains Jnana-Siddhi, which leads to the birth of a Tirthankara. Hence, Bhavavali is the prologue of the main story of a Tirthankara, the hero of Jain Purana, he added.

Manipal Academy of General Education chairman Dr H Shantharam said ancient inscriptions and the knowledge imparted should reach the new generation.

Write Comment
|

E-Mail
|
Facebook
|

Twitter
|

Print