Country should spend more on R&D, says Anil Kakodkar
Mangalore Today News Network
Manipal, Feb 24, 2017: Anil Kakodkar, nuclear scientist and former chairman of Atomic Energy Commission of India, said on Thursday that the country should spend more on research and development activities.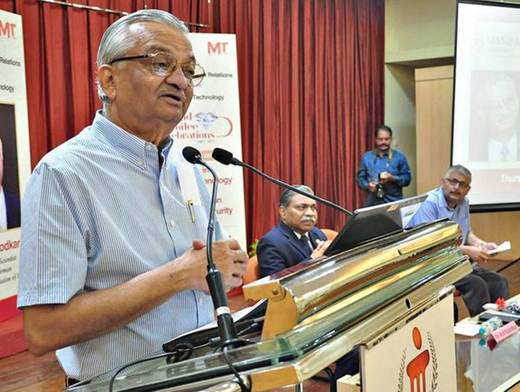 He was delivering a special lecture on 'Advances in Science and Technology and its implications on India's national security' organised by the Department of Geopolitics and International Relations, a constituent of Manipal University, here.

Dr. Kakodkar said the amount of money spent on R&D in the country was too less when compared to that spent by countries such as the United States, Israel, Finland and United Kingdom.

In modern times, technology has become more important, he said. The country must have a national strategy for defining priorities in terms of technological development. It must have a road map to build national capability, he added.

"We should not only develop technologies, but these technologies should be globally competitive. You require research and development not just to develop a particular technology, but also to keep that technology at the state-of-the-art level," he said.

He said technology is an important part of national security and many technologies were developed because they were required for military purposes. But later, most of these technologies started being used for different purposes in the civilian domain.

He added that it is essential to create demand for such technologies. Demand -riven and supply-driven research and development is essential for the development of the country and its security, Dr. Kakodkar said.

Though a lot is being said about nationalism, it would be better if the countrymen followed the policy of 'Be Indian, Buy Indian' at least with regard to products such as soaps and toothpastes and such other items which were manufactured in the country, he said.

Arvind Kumar, Head of the Department of Geopolitics and International Relations, welcomed the gathering. G.K. Prabhu, Director of Manipal Institute of Technology, delivered the introductory remarks.

Courtesy: The hindu


Write Comment
|

E-Mail
|
Facebook
|

Twitter
|

Print