Corporation Bank launches e-Mandate (digital mandate) services
Mangalore Today News Network
Mangalore, Oct 18, 2014: Corporation Bank launched the e-Mandate (digital mandate) services at a corporate meet organized by it in Bangalore on October 17, Friday. S R Bansal, chairman and managing director launched the services in order to provide modern and robust platform for large volume of repetitive payments, eliminate post-dated cheques and also to extend electronic clearing services on pan India basis.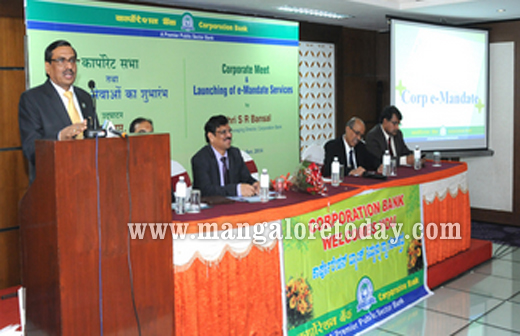 Many payments such as utility, instalment, school fee, premium are being made through post-dated cheques or through ECS debits. Both these payment mode involves physical handling, movement of paper based instruments. Also, ECS debits are presently available only in select locations across India. The e-Mandate services will be leveraging services of National Payments Corporation of India's (NPCI) - National Automated Clearing House (NACH) services.

NACH is a centralised system launched with aim to consolidate multiple ECS systems running across India and provide a framework for harmonization of standards and practices. It can be used for making bulk transactions towards distribution of subsidies, dividends, interest, salary, pension and also for bulk transactions towards collection of payments pertaining to telephone, electricity, water, loans, investments in mutual funds, insurance premium and so on.

The e-Mandate (digital mandate) services of the Bank offer highest flexibility to customers at the same time keeping the cost of operations low for the product. The main activity under the product includes collection of mandate and scanning and uploading of scanned image to NPCI. The corporate company on its part will collect duly signed mandate from their customers in the NPCI specified format and deposit it with the bank.

The bank will scan and capture the details and upload it to NPCL with image and mandate data. NPCI shall create a unique mandate reference number [UMRN] and forward the image to A/c holder's bank for acceptance. The destination bank will verify signature of account holder against signature on mandate form and accept/reject it. NPCI shall send final status of acceptance by destination bank branch within 5 days back to Corporation Bank with UMRN.

Customers will be provided with MIS on successful transactions/mandate registration, returns/rejection with reason in the desired format through e-mail or host-to-host connectivity.

The e-Mandate service will be beneficial to utility companies for monthly subscriptions/bill payments; insurance companies for periodical premium payment by policy holders; NBFCs and other finance companies for instalment/EMI payments; and for other stakeholders and customers.

Write Comment
|

E-Mail
|
Facebook
|

Twitter
|

Print