Conquering rain, Week 36 of Swacchata Abhiyan by RK Mission
Mangalore Today News Network
Mangaluru, June 18, 2018: Rain was not a hurdle for the Swachata Abhiyan's 36 th Shramadan, by Ramakrishna Mission organized around Urwa Market area, June 17, Sunday.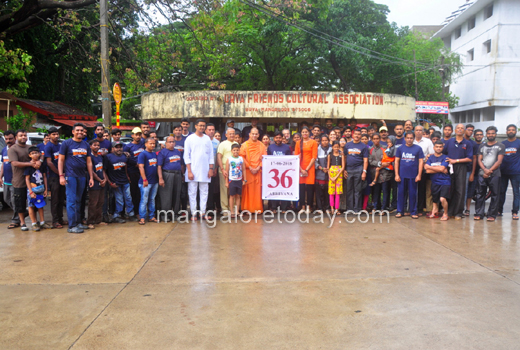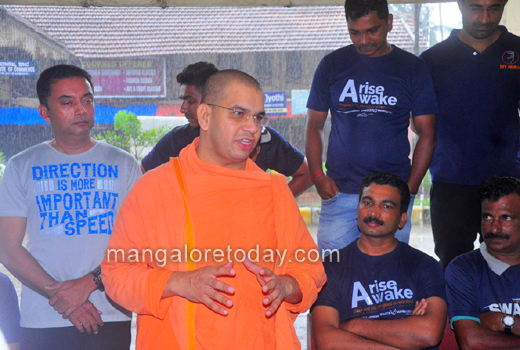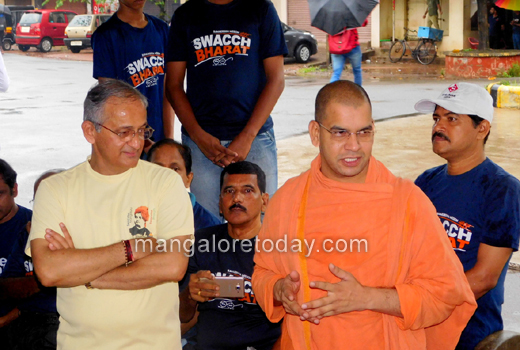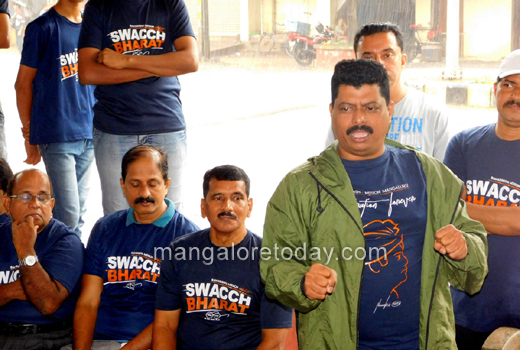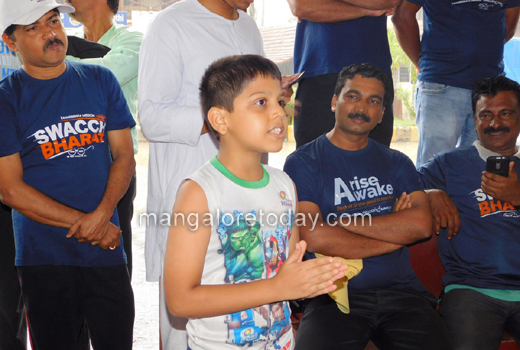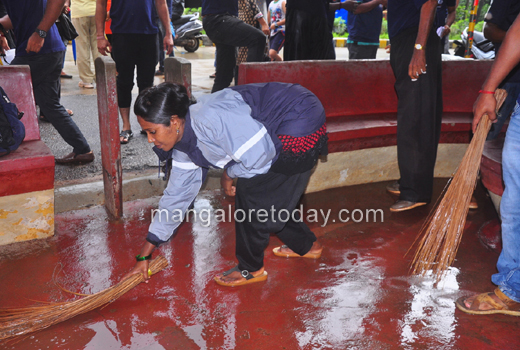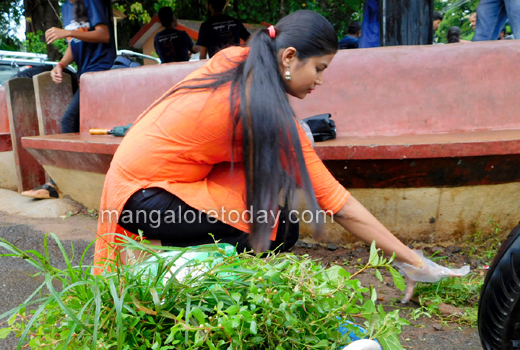 In spite of pouring rains since morning several volunteers participated in the Abhiyan. As it was not possible to carry on Shramadan the volunteers constructively discussed on Swacchata to start with. Swami Ekagamyanandaji in his lead address said, "This Abhiyan is successful because of the indomitable zeal and energy of hundreds of volunteers for the last three and a half years. A significant feature of this abhiyan is that along with keeping the area clean, it aims to cleanse the minds of the public and sow thoughts of goodwill of the society and nation. It has provided an apt platform to hundreds of young volunteers who wish to serve the society. It has kept up the purity of intention by keeping aside distinction of caste-creed-religion and political opinions. Volunteers have become links between the common man and government agencies in achieving the aim of cleaner and better Mangaluru. Hence upcoming 5 th phase is being planned in a very special manner."

Speaking on the occasion, Captain Ganesh Karnik said, "If each individual can think selflessly this nation can definitely change. Keeping cleanliness as an instrument we should mould our personality thus making this Abhiyan successful. We should move from 'I and mine mindset' towards 'we & ours'. This nation has suffered more from the indifference of the so called good people than from the vilest deeds of evil forces. Hence all good forces should come together and think constructively. We are fortunate that this Abhiyan is giving us such a chance in building this nation."

This was followed by several volunteers sharing their views about the Abhiyan, their participation and the change it has brought in their lives and surroundings. Prof. Sheshappa Amin, Musa Sharif, Kudroli Ganesh, Kamalaksha Pai, Yogish Kayarthdaka, Piyush Shenoy and others shared their views. Cleanliness work in rains: Discussion was followed by one hour Shramadan in the rains. Volunteers removed the posters stuck on the Urwa Market Bus shelter and cleaned the interior and exterior surroundings of the bus stand. They also removed the grass and weeds grown in the area. Plastic and paper pieces were picked up by the volunteers. Some of them also removed several banners and posters in different parts of the city ignoring the rains.

Swacch Grama: Cleanliness drives were conducted in Arkula Merlapadavu village. The area from Merlapadavu to Valachil school along with the roads and drains were cleaned. Both sides of the roads were also cleaned. Yadav Ganiga, Nishchita S B, Rajesh Navajyoti Nagar, Ashok Kottari, Rajesh Shetty, Prasahnath Pujari, members of Naganagini Kshtra and villagers actively participated in the Abhiyan. Sri Jayaram Shettigar coordinated the drive. Imtiyaz Shekh, Akshitha Chinjar, Suma Kodikal, Sarika Avinash, Satish Mudigere, Punith Bolar, Puja Rao, Subraya Bhat and several others took part in the Shramadan. Sri Dilraj Alva coordinated the volunteers. MRPL and Nitte Institutions are sponsoring the drive.

A report from Swami Chidambarananda, Chief Convener, is the basis for this report.
Contact – Swami Ekagamyanandaji, Convener, Ramakrishna Mission Swacchata Abhiyan at 9448353162 for more details.

Write Comment
|

E-Mail
|
Facebook
|

Twitter
|

Print