Connecting the Modern Generation to its Roots – Grand Inauguration of Alva's Vidyarthi Siri
Mangalore Today News Network
Moodubidire, Nov 30, 2017: "Development of students on humanitarian and disciplinarian grounds is more vital as compared to academic growth. Events like Alva's Nudisiri are a wonder owing to the extent of efforts that go into inculcating this required discipline and cultural sense in students. These are attempts that connect the modern generation to its roots. Through which, the students can be turned into protectors of the grand Indian culture for generations to come," stated the popular theatre personality of Karnataka, Mandya Ramesh.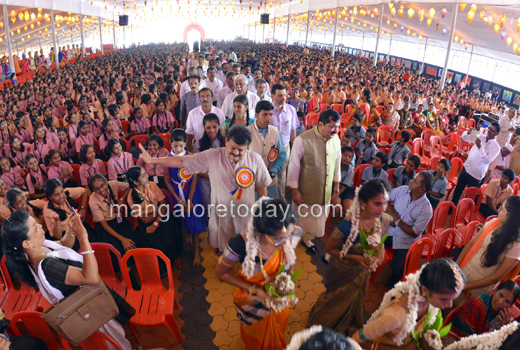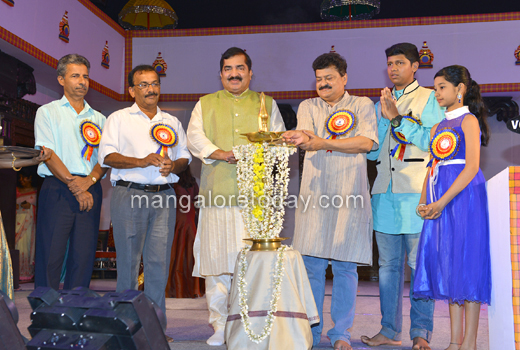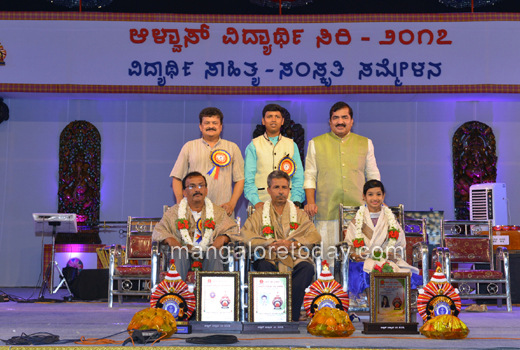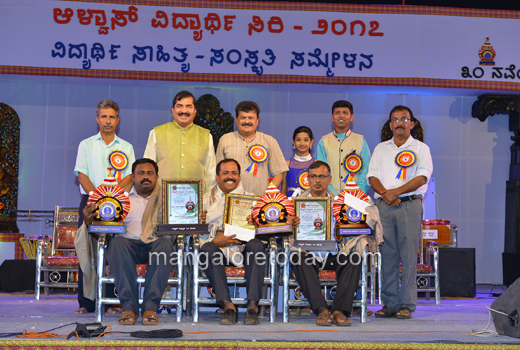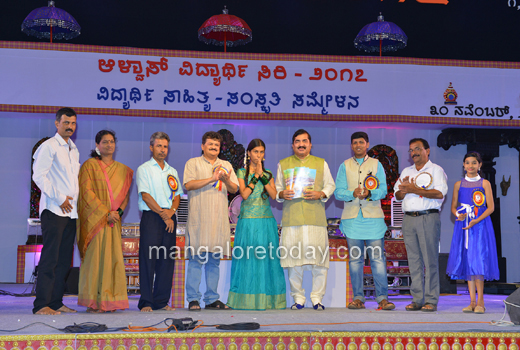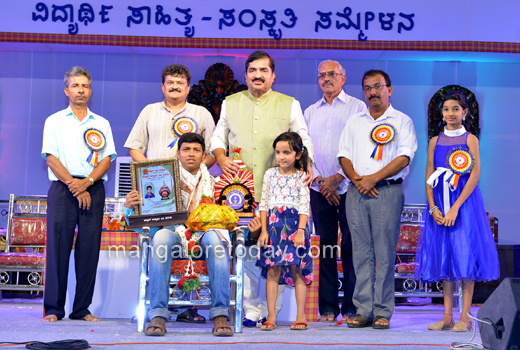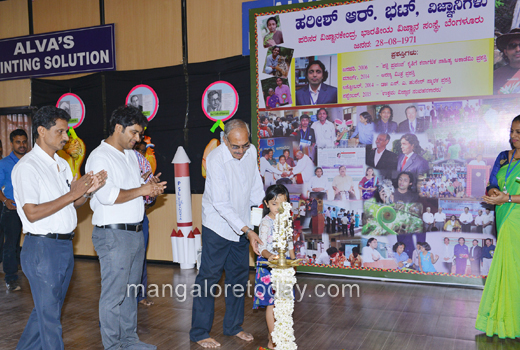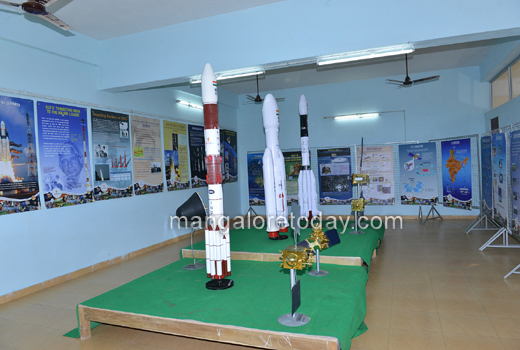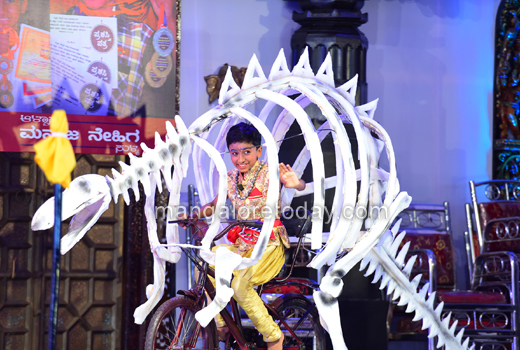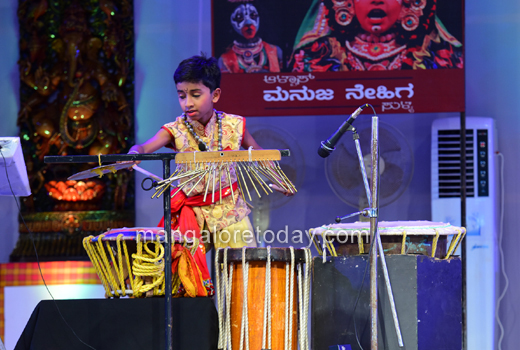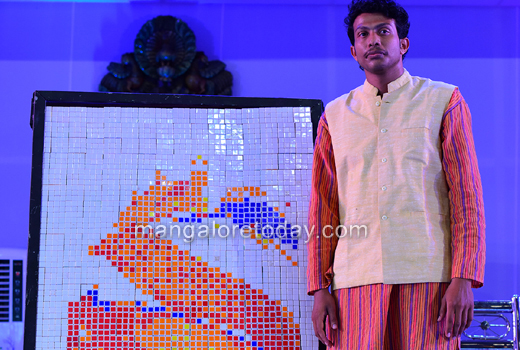 He was addressing the gathering as the inaugurator of 'Alva's Vidhyarti Siri 2017' on Thursday, at Ratnakaravarni Vedhikhe, Vidyagiri. Alva's Vidyarthi Siri is being conducted in association with Alva's Nudisiri, which is an exclusive students' literary and cultural conference. The inaugural began with a cultural procession that began from the entrance of Vidyagiri and approached the stage. An audience of nearly 8,000 people witnessed the event.

Vidyarthi Siri was inaugurated after a grand procession that brought the guests to the dais. Escorted by the Chairman of Alva's Education Foundation Dr.M.Mohan Alva, the Chief Guest Mandya Ramesh and the President of Vidyarthi Siri, Arjun Shenoy graced the stage. Cine Siri, a film festival in association with Nudisiri which shall take place for four days at the Puttana Kanagal Vedike was also inaugurated by Mandya Ramesh.

"India has a problem of population explosion. But more than the issues caused by that, the severe dearth of educational institutions that can connect students to their roots has caused a lack of discipline and culture in the youth. There is a desperate need for students to comprehend and adhere to the essence of their origins, which will instil in them all the patriotism and discipline we need.", he added.

Alva's Vidyarthi Siri Awards, special recognitions for achievers in the various fields were also awarded in the occasion. In the literary and cultural category, Murali Kadekar from Udupi was felicitated with the award. In the academic category, Vivekananda Vidhyavardhaka Association of Puttur was awarded the Vidyarthi Siri Award. In the category of child prodigy, Vamshi Rathnakumar from the Drama Juniors fame was felicitated for her extraordinary talent.

Special felicitation to representatives from excellent Kannada medium schools from Kasargod district was a unique aspect of the event. The felicitated schools were S.P.A High School from Kumbdaje Agalpady, B.E.M.H.S from Kasargodu, G.H.S Uduma, and Government High School from Udyavara.

Answering to the felicitation, Shreemurali Kadekar stated "Kannada medium schools in Karnataka are indeed under a pathetic condition. It would be best if all schools adopted extra curriculum as a vital aspect for the holistic development of students."

Addressing the gathering, the Chairman of Alva's Education Foundation and the Convenor of Alva's Nudisiri, Dr. M Mohan Alva said "Students must necessarily deliberate their focus on constructive ideas, and never even incline towards social evils. It is a major challenge to develop students in ways through which they shall be highly resourceful for the country. Events such as Nudisiri are conducted in great hopes that this very challenge will be accomplished appropriately."

Dr.Alva also made a reference to visitors from Bhutan, Member of the Bhutan Parliament Tshering Dorji and his team who have voluntarily arrived to Alva's Nudisiri and expressed a willingness to display their art. There are also teams from all around the country and Sri Lanka whose art forms will be witnessed during Alva's Nudisiri.

Arjun Shenoy, a student of SDM Pre-University College Ujire delivered his presidential remarks post the inaugural proceedings. "It is the need of the hour for students like ourselves to shoulder the responsibility of protecting Kannada literature and culture. When the rest of the state shall now, at the end of November, lay down their red-and-yellow flags and let go of their patriotism for the state; we shall take up the responsibility. The languages and cultures from the west that we tend to follow were still cradling children whilst Kannada ruled its kingdom. The intensity of Kannada is more than we realise today."

"Children are best provided primary education in Kannada. Modernism in Kannada literature must be welcomed with open arms. The Kannada academic sector requires much more attention. It is not true that modern English education produces resourceful individuals. Parents must let go of this prejudice, and encourage their children to pursue understanding of Kannada heritage," he added.

A poetry collection 'Shades' of Sannidhi T Rai Perla from Chinmaya Vidyalaya from Kasargod, and an essay collection 'Na Kanda Kanasu' by Ananya Belthangady from SDM Pre-University College Ujire were released at the occasion.

The inaugural was followed by a unique talent show by Manuja Nehiga, a 4th standard student of Alva's Kannada Medium School who displayed 10 of his talents in 10 minutes. His performances included magic show, playing the harp, rhythm pad, drums, harmonium, keyboard, singing, Bharatnatyam, Yakshagana and more. A series of literary conferences conducted and chaired by students themselves, followed the inaugural.

A special reference was made to Late Harish Bhat, a scientist who recently passed away. Hamsa, the daughter of Harish Bhat was handed a sum of two lakh rupees and a promise of consistent support from Alva's.

ALVA'S VIJNANASIRI

Nudisiri has also organised 'Vijnana Siri', a science fair in memory of Late Harish Bhat which was later inaugurated by HamsaVijnana Siri is an exhibition of 100 science models, which include satellite models of from ISRO, 2 models of INSEF, Bio-diesel model from Nitte Institute of Engineering, and 15 models designed at Alva's. The science fair will be accessible to the public for 4 days. Alva's Nudisiri will be a plethora of numerous fairs like this one, each of them accessible to every visitor. Alva's Education Foundation Managing Trustee of Vivek Alva, Narayan Aiyer from Science Society of India, and the Senior Project Assistant from ISRO – Sadashivan were present among others.



Write Comment
|

E-Mail
|
Facebook
|

Twitter
|

Print