Congress releases manifesto, lays thrust on jobs creation and strengthening education
Mangalore Today News Network
New Delhi, April 2, 2019: The Congress on Tuesday released its manifesto for the 2019 Lok Sabha election. The manifesto document has been released by party president Rahul Gandhi at the party's Akbar Road headquarters in New Delhi.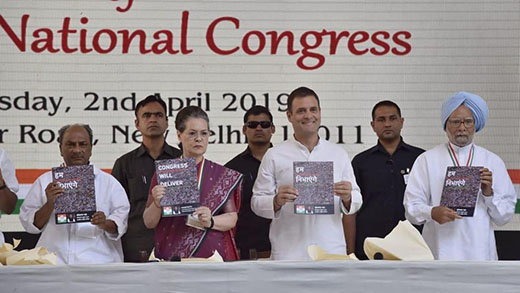 The Gandhi scion said that the manifesto reflects the voice of the people and not just one man's view. He added that the manifesto lays major thrust on jobs creation, addressing agrarian distress and strengthening the education and health sectors besides charting a roadmap to boost economic growth.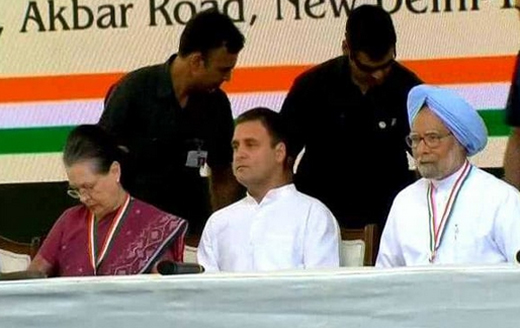 Former union minister P Chidambaram said, "The contents in the manifesto are in a way the voices of millions of Indians. It addresses the concerns of our farmers, youth, dalits, those concerned over education, health, foreign policy and national security. We have tried to accommodate all of it in the manifesto There was so much to be said, but we tried our best to accommodate as much as we could. Our party president has already set the narrative."

4 crore, 70 lakh jobs were lost, farmers are in a bad state and in immense debt. Women are not secure, unemployment, farmer distress and women's safety are the top 3 issues, and our manifesto guarantees support for these. Our manifesto is about marrying wealth and welfare

The manifesto committee of the grand old party was headed by former finance minister P Chidambaram. "Manifesto addresses farmers, youth, Dalits, women, industry, security concerns, foreign policy, north-eastern states and much more," he said.
The manifesto promises that Congress would fill 22,000 government jobs, assure employment in gram panchayats for 10 lakh youth, ensure no permission is required for entrepreneurs for three years, a guarantee of 150 days of MGNREGA, separate farmer budget and ensure that defaulting on farm loans won't be a criminal offence but a civil offence. The manifesto also says that six per cent GDP would be for education and that the poor would have access to high-quality medical facilities.

Congress' manifesto is also based on the following key pledges:

* Minimum Income Guarantee To Eliminate Poverty or Nyuntam Aay Yojana (NYAY)

* Jobs Revolution

* Farmers and Farm Labour

* Universal Healthcare

* GST 2.0

* Armed Forces and Paramilitary Forces

* Quality Education For Every Child

* Gender Justice

* Adivasis

* Right to Homestead

* End to Hate Crimes

* Celebrating Freedom

* Protecting Our Institutions

* Cities and Urban Governance

* Environment and Climate Change

These and many others are lofty promises made by Congress for the upcoming election. Will 900 eligible voters choose to put their faith in the party and its promises or will they once again reject Congress? May 23 - counting day - will reveal.


Write Comment
|

E-Mail
|
Facebook
|

Twitter
|

Print