Coconut farmers greatly pained by low prices
Mangalore Today News Network
Udupi, Feb 17, 2016 : Rapid fall in the price of coconuts, one of the major horticultural crops here, has adversely affected coconut growers in Udupi district.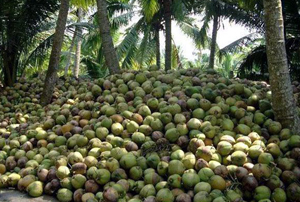 the Department of Horticulture says, 17,815 hectares of land in the district was under coconut cultivation. According to an estimate, there were 26,72,250 coconut palms in the district, which was roughly 150 coconut trees a hectare. The yield of each coconut was estimated at about 80 to 100 a year.

The decline in price could be gauged by the fact that a coconut which was sold at Rs. 18 each last year, was priced at Rs. 9 this year. B.V. Poojary, a farmer who grows 500 coconuts in his farm at Perdoor village, said "The price of coconut has gone down, but the cost of other inputs, especially that of labour, increases every year. Cost of hiring a labourer for getting agriculture work done was between Rs. 450 and Rs. 500 a day. Even at this wage-level, it is difficult to find labourers. A coconut tree-climber should be given Rs. 35 to climb a tree and pluck coconuts. Those dehusking coconuts have to be given 55 paise for every coconut dehusked," he further said.

"The fall in the price has hit coconut growers badly in the district. Since the prices were good last year, many had assumed it would remain the same if not increase," said Satyanarayana Udupa, another coconut grower and General Secretary of the district unit of Bharatiya Kisan Sangha.

According to an owner of a coconut processing unit at Hebri, which manufactures coconut powder, the fall in price could be attributed to fall in demand for coconut powder in north India States due to intense winter. "Coconut powder is often used in preparation of sweets in north India. We get coconuts from Udupi district. Only when we run short do we get them from Dakshina Kannada and Uttara Kannada," he said. Coconut powder was also used in making curries and a condiment in paan. Yet another problem faced by coconut growers was the damage done to coconuts and tender coconuts by animals like monkeys, bandicoots/rats, squrrels and boars. Farmers in the district were demanding a support price for coconuts so that they had a cushion against losses.

Deputy Director of Horticulture K.A. Vijayakumar said that so far there was no provision in the department to provide support price for coconuts. He would forward the demand of farmers to the government for consideration, he said.

Write Comment
|

E-Mail
|
Facebook
|

Twitter
|

Print