Coastal Digest lift the MPL Trophy
Mangalore Today News Network
Mangaluru, Dec 31,2016: The Costal Digest team has lifted the Prestigious Mangalore Premier League Cricket Trophy by a narrow margin victory of 6 wickets against Mastro Titan team. In the final match of the tournament held under follodlightsat Dr B R Ambedkar Stadium in Panambur, Mangalore on Friday the Mastro Titan won the toss and elected to bat first.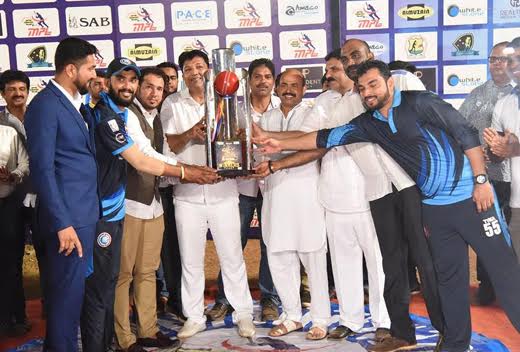 In the very first over of the innings Mukka Express Arif has dismissed two promising batsmansRohanKadam for 0 and Vishwanathan for 4 run when the total score was 8 on the board. By considering the RiteshBhatkal-led coastaldigest.com clinched the Mangalore Premier League-2016 title after humbling Maestro Titans in an almost one-sided encounter here on Friday under floodlights.

The runs flown slowly from the both teams. However the match was a high-quality match which had a few unexpected twists and it turned out to be a microcosmic glimpse of previous performances of the two finalists in general and the two skippers in particular.
Eventually, it seemed that Maestro Titans bowling was just too weak to defend a miserable total of 119 as men-in-blue exhibited a powerhouse performance throughout the match despite the failure of a couple of promising batsmen.
The joy of the toss win did not last long for Titans as Mukka Express proved the captain AkshayBallal's decision absolutely wrong by dismissing both the openers — RohanKadam (0) and Vishwanath (4) — in his very first over.CaptianAkshayBallal taken the responsibility at this stage and made some patch up for the early damage caused by registering a brilliant knock of 41 runs off 20 balls. He smashed three sixers out of the stadium. Left arm spinner Viswas Manipal given a turn to the match by dismissing Mr.Akshaya Ballal. Then Mr.Lokesh tried to rescue the titan side by his sensible knock of 33 runs in 20balls, however a big hit of his of the ball of RiteshBhatkal was safely landed in the hand of AdithyaSomanna. Mr.Vishwas and Shreesha poured cooled water on the high score dream of Titans by securing 3 wickets each. Titan finished its innings in 17.5 overs for 119 runs.

The opener of coastal Mr. Mohammed Taha beginning the innings in a grand manner by smashing power full hits to the boundaries.However , he surrendered his wicket when clean bouldout to Rajath when the score on the board were 17. SathyaSwaroopand all-rounder AdityaSomanna'sfall of wickets gave a big damage to Coastal. However opener Rishab G M's sensible victory knock by joining hand together with Mr.RiteshBhatkal who scored a utilitarian 37 runs made the team to register 6 wicket win over Mastro's. The winning bat of Rishab registered unbeaten 52 of 54 balls.

Akshaya Ballal have received the Purple cap award for securing 16 wickets as a best bowler and orange cap as a best batsman for securing 455 runs. He also received Chervolet car as a prize for Man of the series award. Rithesh Bhatkal was adjudged as Man of the match of the final match. Adhoksh Hegde received the Saqco Kamal catch award as Best Fielder. The team Karavali Warier received the fair play award.

The Sponseror of the Tournament ZakhariaJokatte of Almuzine, Imran of Realtec were present in the Prize distribution ceremony. Among others present are ShukurSahebShankarpur, MoideenBhava, Ifthikar, YashpalSuvarna etc.
Brief Score
Maestro Titans 119/all-out (17.5 over):Akshab Ballal 41; Lokesh 20; Sinan Abdul Khader12, Abhilash 10, ArifMukka 2-0-30-2, Vishwas H 4-0-17-3; Shreesha 2-0-14-1 ; RiteshBhatkal 4-0-25-1
Coastaldigest.com 120/4 (18.3 overs):Rishab GM 52*; RiteshBhatkal 37
Akshay Ballal 4-0-18-2; Rajath Hegde 2-0-14-1



Write Comment
|

E-Mail
|
Facebook
|

Twitter
|

Print