Coast guard troops get together on 43rd raising day celebrations
Mangalore Today News Network
Managaluru, Feb 04, 2019 : Coast Guard Karnataka organized a variety of events as part of its 43rd raising day celebrations. A troops get-together was organized at Headquarters, No. 3 Coast Guard District of Karnataka. Coast Guard Personnel and Civilian staff along with their families attended the event. Coast Guard veterans (EP) were also invited for the event. DIG SS Dasila, TM Commander, Coast Guard (Karnataka) was the chief guest on the occasion. The event comprised scintillating song and dance performances by Aryan Group at New Mangalore.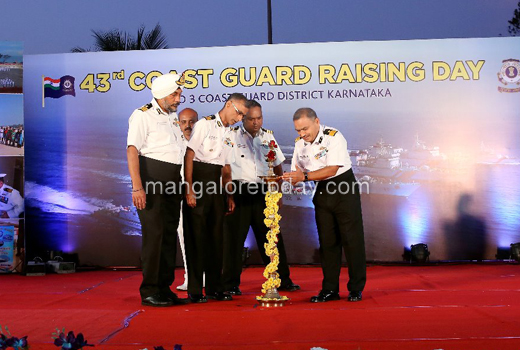 In his address, the Commander appreciated the participants for their exuberant performance and thanked families and children for their roles in Coast Guard life. He said "Our Coast Guard families don't take an oath to 'support and defend the Constitution,' yet the role they play is no less important,".

Further, the Commander highlighted the achievements of the Coast Guard units in the state of Karnataka during the past year in all spheres of CG Charter. He complemented the CG units in their proactive role in search and rescue of fishermen and seafarers in distress, by keeping "Service before Self" attitude which resulted in saving 202 lives in the year 2017 and 209 lives in 2018 and 19 lives so far in this current year of 2019.


DIG Dasila re-counted Nature's perfection and applying its reflections to their lives. He said we all want light of nature and seek it in different ways: in our family, friends, religion, work and so on. But there are always going to be cloudy days, gloomy days, because there is no escaping them! He wished everyone a "Sun flower" trait of turning towards each other on their cloudy and gloomy days. "May we be the sunflowers in each other's lives," he said.


The Commander commended Coast Guard Wives Welfare Association for their proactiveness and commitment to the social causes.


Write Comment
|

E-Mail
|
Facebook
|

Twitter
|

Print