Coast Guard Karnataka assists Fishing boat Bhagya Nidhi
Mangalore Today News Network
Mangaluru, May 13, 2016: Indian Coast Guard ship (ICGS) Amartya, whilst on patrol, assisted distressed fishing boat Bhagya Nidhi (Regd No. IND-KA-02-MM-441) and its 06 crew in position 22 kms North West of Malpe in the wee hours of 13 May 2016. The boat was in distress due to flooding and the aft part of the boat was submerged into the water. The boat was escorted safely to Malpe harbour at 0920 AM on 13 May 2016.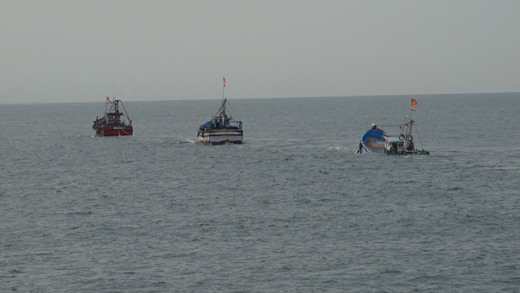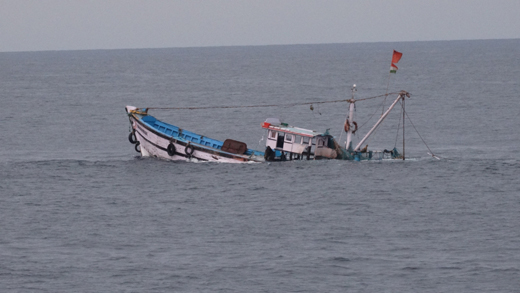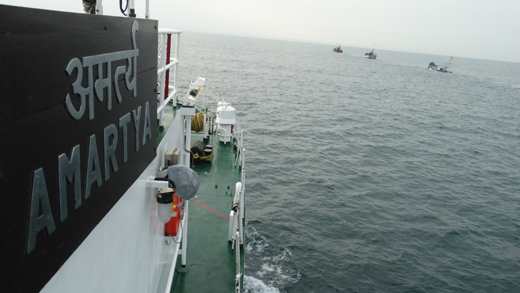 On receipt of the information regarding distressed boat Bhagya Nidhi late evening on 12 May 2016, Coast Guard Rescue Sub Centre (MRSC), Mangalore functioning under Coast Guard Karnataka Headquarters, promptly diverted ICGS Amartya from its designated patrol area to search and render assistance to the fishing boat. Simultaneously, Coastal Security Police (CSP) was also requested to deploy boat and also informed all other boats fishing in the area to keep sharp lookout and assist the distressed boat.

Meanwhile, the owner of the boat was also contacted and MRSC, Mangalore coordinated the search and rescue operation of fishing boat Bhagya Nidhi with ICGS Amartya, CSP, fishermen and the owner. Coast Guard Remote Operating Station, Mangalore kept on broadcasting massage for the locating and assisting fishing boat Bhagya Nidhi through its VHF Station at Bhatkal.

After elaborate search, ICGS Amartya located fishing boat Bhagya Nidhi at 0400 AM on 13 May 2016. The boat was taken under tow by fishing boats Jaishankar and Mahadevi. All the 06 crew of the distressed boat were safe and transferred to another boat. The aft part of Bhagya Nidhi was submerged due to excessive flooding. ICGS Amartya continued to escort the distressed boat till Malpe.

Fishing boat Bhagya Nidhi along with the other two boats entered Malpe harbour at 0920 AM on 13 May 2016 and secured alongside jetty. All the 06 fishermen of the boat are safe and healthy.

While analyzing this operation, Coast Guard Karnataka Commander, Deputy Inspector General KR Suresh, TM stated that Coast Guard Rescue Sub Centre, Mangalore and all the Coast Guard Units are alert as ever, to undertake Search and Rescue operations during the ensuing monsoon. Simultaneously, State Fisheries Department is requested to ensure seaworthiness of the fishing boats prior permitting them to proceed for fishing. All the boats should have lifesaving and communication equipments. The identity of the boats and crew should always be maintained with the Fisheries Department to render prompt response. The boats should operate in groups, so that timely location and assistance is possible. The Fisheries Department is also requested not to let the fishing boats venture into sea during the fishing ban period.


Write Comment
|

E-Mail
|
Facebook
|

Twitter
|

Print