City college students reaching out to women unsung
Mangalore Today News Network
Mangaluru, Sep 09 2017: The newly set up journalism department of St Agnes College in Mangaluru is trying to reach out to women at work, who often go unnoticed.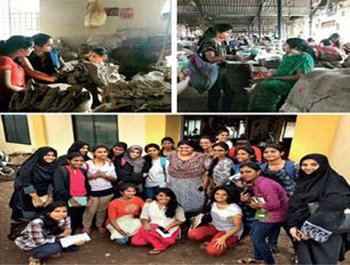 Laxmi Shenoy, head of the department, told Bangalore Mirror that the department was encouraging students to write stories on women as part of a programme #WomenAtWork.

"It could be a simple story of a housewife, a lady who roles beedis for a living or a women who sells fish at the market. Being a women's college, we felt that students have to be sensitized to problems of other women. As part of the first assignment, students were taken to a fish market and each student had to speak to the woman who sells fish," Shenoy said.

The experience left many students overwhelmed. Some of them were even left misty-eyed when they learned about the difficulties these fish-sellers faced on a daily basis.

"Many of the sellers did not want to be photographed because their daughters and sons are studying in colleges.

"There are about 28 students and each student has to write down their experience which will be posted on Facebook as well as the department's blog called AgnesInk," Shenoy said.

This will be a monthly exercise. Students will interact with women from different walks of life every month.

Shenoy has also set up a forum for women's development with people from different walks of life. The forum comprises Cressida Pinto (a lawyer), Carol Pinto (a student), Shribali Shetty (an entrepreneur), Nazeefa Aysha (a lecturer), Rumiya Hussain (a housewife), Sushma Shetty (a student) and Huda (a lawyer). This team will look for solutions whenever there is a crisis and render help at an individual level.

"The problems of women will not end by merely highlighting them. There are issues that need immediate attention and can be solved with the help of experts. Hence we have formed a forum, where women can share their experiences and get help from experts to solve problems," Shenoy said.

As part of the formation for this forum, the department, in association with a salon, is organising a hair donation drive at Forum Fiza Mall on September 10. Hair collected at the drive will be sent to an NGO, Sargakshetra, to make wigs for people battling cancer.

Write Comment
|

E-Mail
|
Facebook
|

Twitter
|

Print