City Jeweller M. Raghunath Shet no more
Mangalore Today News Network
Mangaluru, April 7, 2015: M. Raghunath Shet, Managing Partner of the city's famous jewellery house SL Shet Jewellers and Diamond House, passed away this morning (April 7). He was aged 68 years and is survived by his wife, four sons and a daughter.
It is learnt that Shet had complained of chest pain and was admitted to Intensive Care Unit of KMC Hospital few days back. He breathed his last at the hospital on Tuesday morning.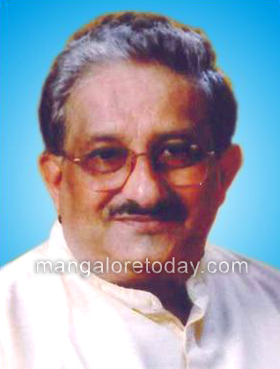 Raghunath Shet had joined the family business founded by his father in the year 1965. Apart from being a successful businessman, he was also a well known philanthropist and he was actively involved with innumerable social, cultural, religious, educational activities and organizations.
His body is placed at his residence 'Laxmi Sadan' (behind Canara High School Urwa) in Gandhinagar locality of the city and last rites will be performed at 10:00 a.m. on Wednesday, 8th April according to family sources.


Biographic Profile
Mangalore Raghunath Shet was born on 16th July 1947 into a family of hereditary jewellers. Following his graduation in commerce from St. Aloysius College, Mangalore, in the year 1965, he joined 'S. L. Shet Jewellers & Diamond House', the family business established by his father, Subraya Laxman Shet.

In characteristic style, he devoted his initial years to learn the business thoroughly. Based on this first hand experience, he developed his own vision for his business. Under his leadership, the firm recorded steady growth over the last five decades to emerge as the foremost jewellery house of the coastal Karnataka.

In order to enable the low and middle income families to acquire gold and jewellery, he formulated and launched an innovative small savings cum gold purchase scheme. This scheme has enabled thousands of low and middle income families to realise their dream of buying gold.

Side by side, his eager entrepreneurial zeal also saw him diversify into the hospitality industry when he established the reputed Navarathna Group of Hotels.

During his lifetime, he has also assumed leadership of various trade associations and organisations. He has served as President, D.K. Swarna Vyapari Sangha, Mangalore; Vice President, South Kanara Hoteliers Association, Mangalore; Executive Member & Life Member, Karnataka Pradesh Hotels & Restaurants Association; Life Member, Kanara Chamber of Commerce & Industry, Mangalore and as Life Member, Gem & Jewellery Federation, Mumbai.

Philanthropy & Social Work:


Sri Mangalore Raghunath Shet has a deep sense of sympathy for the social causes and generously supported community development initiatives, both financially and by devoting his time, effort and good offices. Apart from serving his own community's Daivajna Brahmana Sangha for a long period of 36 years, he has also been a pillar of strength for the mass movement to revive Konkani language and culture. He was a founding trustee of Vishwa Konkani Kendra and had served as President of Konkani Bhasha Mandal Karnataka. Child welfare and education are some of the other causes he actively involves himself in.

He was the Managing Trustee, S.L. Shet Memorial Charitable Trust, Mangalore; President, Canara High School Betterment Committee, Urva, Mangalore (Donated building for the Kindergarten section of the school); Chairman, Vishwa Konkani Kendra Construction Committee, Mangalore; Vice President, Konkani Language & Cultural Foundation, Mangalore; Vice President, Old Students Association, Canara High School, Urva, Mangalore; President / Secretary, Daivajna Brahmana Sangha, Mangalore (served for 36 years) and President of Bala Samrakshana Kendra, Kuttar Padav, Mangalore for many years.

He was also a Life Member of Rotary Club, Mangalore and Lions Club, Mangalore and Honorary President of Karnataka State Body Builders Association.

Religious / Spiritual Service:

Mangalore Raghunath Shet associated himself with innumerable religious and spiritual causes. He was actively involved in executing many works in Gold and Silver at Sri Dharmasthala Manjunatheshwara Temple, Ashta Matas of Udupi and Hornadu Annapoorneshwari Temple and worked in renovation committees of many temples in South Kanara and North Kanara districts. He was also involved with Sri Sode Vadiraja Mutt and served as President, Vice President and Treasurer in executing three silver doors and one silver chariot at Kadri Sri Manjunatheshwara Temple, Mangalore

Patron of Art & Antiquities:


Sri Mangalore Raghunath Shet is a very keen collector of art and artefacts and has a monumental personal collection built over a lifetime. He generously patronised upcoming artists, writers and performers and gives them opportunity to prove themselves. He was a Life Member of Chitrakala Parishath, Bangalore

Awards & Recognitions:


His contribution to society and his unique personality had earned Raghunath Shet many laurels such as 'Dr. TMA Pai Foundation Outstanding Konkani Award' by Dr. TMA Pai Foundation, Manipal; 'Sri Krishnanugraha Prashasthi' Award by H.H. Shri Vishwesha Thirtha Swamiji of Sri Pejawar Adhokshaja Mutt, Udupi and 'Sri Hyasya Krishnanugraha Prashasthi' by H.H. Sri Sughunendra Thirtha Swamiji of Sri Puthige Swamiji of Sri Puthige Mutt, Udupi.



Write Comment
|

E-Mail
|
Facebook
|

Twitter
|

Print