City 'Beauty entrepreneurs' address press, annual celebration, September 10
Mangalore Today News Network
Mangaluru, Sep 6,2017: The "Ladies Beauty Association" (Registered), for the very first brought into the lime light in a press briefing on September 5, Tuesday, at the Press Club. The hitherto unknown details of it's activities among the large number of legitimate different Ladies Beauty Parlours in Mangaluru city took on an interesting note.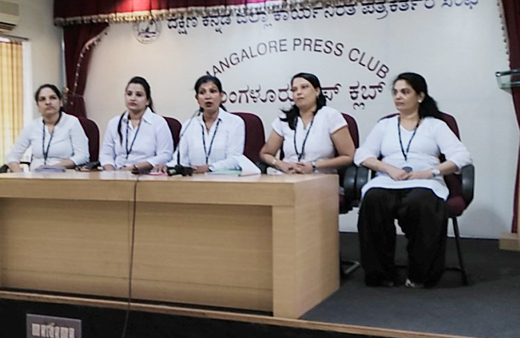 Today it is not uncommon to see women in general well made-up with premium expertise of beauty parlours and well versed beauticians who do the professional best for their clients and not only just the best materials but a very wide range and choice. Beauty is yet in the eye of the beholder, they say. There are in your own vicinity perhaps several 'Beauty Parlours' and a variety of them to choose from. But, it came out of the blue that in Mangaluru, spread across this very forward, educated, cultured city are about a few thousand Ladies Beauty Parlours worth the name. There is a wide cross section of communities and even migrants who are involved in this trade seen as lucrative and thriving. The proprietors and first line entrepreneurs here in Mangaluru have a registered body called a "Ladies Beauty Association" (Registered), their activities and plans truly are vital. Their mission apart from creating beautiful women who are always admired in excess.....is to serve the society in most productive ways that social workers and politicians will envy. Yes, their concern and contribution to the least, last and lost in the society around is simply admirable.

The Association profile : According to what the President of " Mangaluru Ladies Beauty Association" (MLBA) Pauline Saldanha, present along with some of the office bearers of the association kindly explained a few finer points probably not generally known, but it is well to know and appreciate:


Mangaluru Ladies Beauty Association (MLBA) is a registered body started on April 14, 2013, ( registered on June 7, 2014). It isknown that most trades and services have an Association to safe guard their rights and interests; the members rightly are sure that an association is essential, in particular to combat the malpractices prevailing.

The chief objectives and aims are in brief :  To create solidarity among its members  Motivate and felicitate its members to maintain the high standards of beautician profession on par with international best.  Promote, protect, support, guide, help and encourage its member in their beautician profession in every moral and ethical manner.  To empower as women of India and support them to rise to the peaks through their work. To ensure support and protection of the girl child in all possible manner.  Raise funds in suitable manner to achieve the objectives and serve needs of the needy in the immediate society.  Take up all causes to support members against injustice, harassment and high handedness in every good and legal matter that members face from time to time in the beautician profession. Seek to work towards due benefits and safety from Government and statutory institutions.


From Mangaluru about 160 parlours owners joined and more are in the process. Association had rendered many services to the less fortunate people like example we had given free hair cut and given our token of love to below institutions. MLBA is very much helpful for each of the members who joined this. We arrange seminars, workshops, solve parlour problems which for single person difficult to face but as a Association easily can solve the problems. We are planning many more events which will are helpful to the society in future.


The office bearers are : Pauline Saldanha – President from Pearls Beauty Parlour, Kapikad; Sharada Suresh – Vice President From Svelte & Stylish Beauty Parlour, Kadri Anitha J Amin – General Secretary From New Prakruthi Beauty Parlour, Surathkal; . Ramya P.D. – Assistant General Secretary From Bright Beauty Parlour, Light House; Winnie C. Pinto – Treasurer From Lafemme Beauty Parlour, Bejai Priya Y. Suvarna – Assistance Treasurer From Prisha Beauty Parlour, Kulur

Annual Day on Sunday September 10 : At Yuva Vahini Sabhangana, Raghu Bldg, Urwa store, Mangaluru 6. At 9-30 am. on wards. Chief Guest Mangaluru Mayaor Kavitha Sanil.

Write Comment
|

E-Mail
|
Facebook
|

Twitter
|

Print