Children motivated as solar lights arrive in homes
Mangalore Today News Network
Udupi, July 23, 2016: Ganesh and Kamalakshi, along with Lenkappa Valekar, in front of their house fitted with a solar panel and two solar lamps at Sagri in Udupi. Their cousin, Praveen, is standing behind.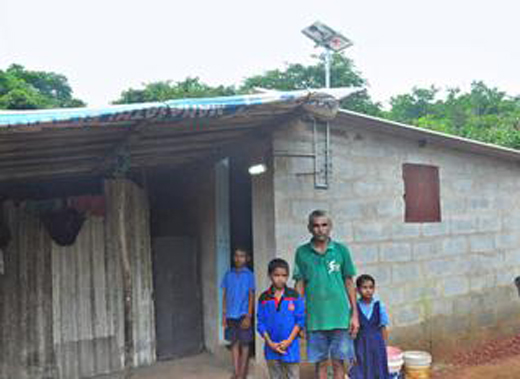 It is reported that for over 20 years, two families of migrant workers from Badami in Bagalkot district lived in the dark and used only lanterns in their hut at Sagri. In the last few weeks, the darkness in the two houses has vanished. They now enjoy the brightness of two solar lamps each in both their houses.

Ten year-old Ganesh and six-year-old Kamalakshi, children of migrant workers, Lenkappa and Shanthavva Valekar, and their seven-year-old cousin Praveen, son of Srikanth and Renuka Valekar, who live in the next house ; are those most amused and glad.

Thanks to the 'Vidyarathigalige Mane Belaku Yojane' (Lighting Scheme for Students' Houses) of Karnataka Bank Ltd. in association with the NGO, Bharatiya Vikas Trust (BVT) and SELCO Foundation.

Under the scheme launched last November, each house is provided with two solar lamps, which costs Rs. 9,500. "Our bank gives financial assistance of Rs. 5,000, the BVT and SELCO Foundation give Rs. 500, while the beneficiary bears the rest of Rs. 4,000, adding up to Rs.9500," said M. Mahabaleshwar Bhat, Chief General Manager of the bank. "We wanted the beneficiaries to bear Rs. 4,000 as anything given free has no value. Now beneficiaries will feel responsible for the solar equipment," said K.M. Udupa, Managing Trustee, BVT.

To identify students having no lamps in their houses, the BVT contacted teachers and headmasters of government schools, who obtained the information from the students.

The bank has provided two solar lamps each with a solar panel and a battery, to 100 such houses in Udupi district, mostly in rural areas. The installation and maintenance of solar lamps is done by the personnel of the SELCO Foundation, run by Magsaysay award winner, Harish Hande.

Write Comment
|

E-Mail
|
Facebook
|

Twitter
|

Print