Chikkaballapur activists reject interest in Yettinahole
Mangalore Today News Network
Mangaluru, Oct 5, 2015 : Addressing a meeting at Hotel Srinivas in the city Oct 4, organized by Karavali Jeevanadi Netravati Samrakshana Samiti. Anjaneya Reddy, president of Shashwata Neeravari Horata Samiti, Chikkaballapur which has been fighting for a permanent solution to the drinking and irrigation water needs of Kolar and Kolar and Chikkaballapur regions, said that people of his region would not want Dakshina Kannada to face water crisis because of the Yettinahole project.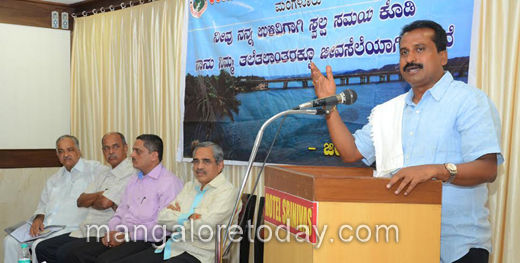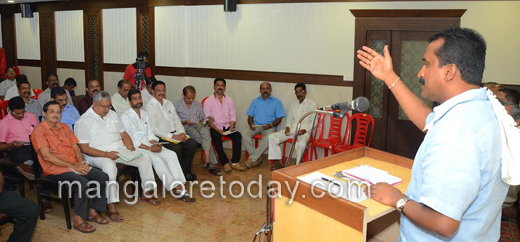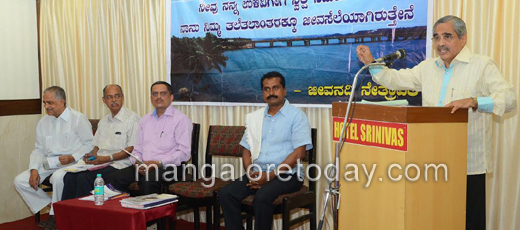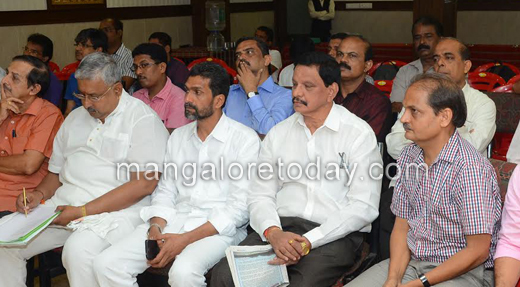 We are already in pain and we do not want the same kind of crisis to be faced by the people of this region. Because of fluoride in water, people of our region are suffering from diseases. We do not want the Yettinahole project if it is going to affect the people of this region, Reddy said.

Only if there is no adverse impact on this region, then we request the people of Dakshina Kannada to cooperate and give us water. Interest of people of both the regions should be taken into consideration. I request all of you to visit Kolar and see the situation there.

Not to get trapped by people who are misusing this project for political gains is a must. People of neither region should get into friction on this issue. Retired IAS officer V V Bhat said, There are three petitions filed in the Green Tribunal against Yettinahole project - by MCC mayor Purushotham Chitrapur, Kishore Kumar from Hassan and Yathiraj. The state government has said that it will conduct a social impact assessment survey. The whole coastal region will be affected by this project, so there is need to conduct the social impact assessment throughout the region. No one is against giving water to anyone. But there are many flaws in the current detailed project report (DPR). A rally to Yettinahole will be held.

Former MLA Vijayakumar Shetty said, that the project was initiated in 2011 at an estimated cost of Rs 8,300 crore, but now it has reached Rs 13,000 crore - from where will this money come? It is the government's responsibility to provide water, but when a such project is taken up it needs to be discussed with the people of the region. The chief minister had promised to hold meeting with the people of this region but till date nothing has been done. This government has no stand on this issue. Water for this region is our priority, it is above politics and party affiliations. Let us all join together and solve this problem.

Prof S G Mayya said, that from the word go there have been no changes in the DPR, only the project's name has changed. There are many rivulets but the main river is Netravati. This project is misleading in every stage. First the government has to be stopped from executing the project. We are not opposed to giving drinking water to anyone from Netravati, but not through this project. They say 24 TMC of water can be obtained out of the 34 TMC available. But the available water itself is 23 TMC as per the National Institute of Hydrology, which means they will give away all the water that is available.

There are three water boards in Karnataka and these are for irrigation. Drinking water can be pumped through pipelines, why should the Western Ghats be spoiled by building weirs? This will impact not only the coastal region but also the entire southern India. We have seen the impact of projects in Himalayan region, but we have not learnt from it. We are not saying the entire project should be scrapped, but the DPR should be withdrawn. In the Green Tribunal the petitioner has said 'not to stop or cancel this project anytime but if necessary the Tribunal may ask the other respondents to revisit the project and move ahead'. This means reject the project, propose a new project and take care of the interest of Kolar and Chikkaballapur people, and thereby safeguard the interest of the people of this region.

Advocate Shankar Bhat said that Netravati is the only source of water to the coastal region. There are many industries and SEZ coming up in this region and there will be scarcity of water. So the people of this region need to resist this project strongly. Many leaders of the people were present at the meet.

Write Comment
|

E-Mail
|
Facebook
|

Twitter
|

Print