Chandrayaan 1 mission success thrills students
Mangalore Today News Network
Mangalore, Sep 25, 2014: Students in Dakshina Kannada and Udupi districts were elated at the success of ISRO after it successfully placed its Mars Orbiter Mission (MOM) spacecraft in the Red Planets orbit on the very first attempt on September 24.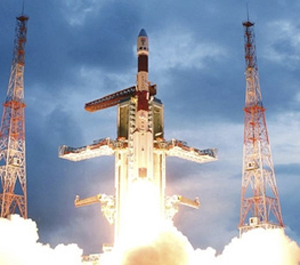 The members of ABVP celebrated the occasion by bursting crackers and distributing sweets in Mangalore.

Speaking on the occasion, ABVP Prantha Joint Organising Secretary Lavin Kotian said that scientists have achieved this in the very first attempt. "The MOMs success has helped India to show that with modest budgets, one can achieve success," he said. The students of Kendriya Vidyalaya Sangathan watched the live telecast of the final manoeuvres.

Physicist and head of the physics department and Astronomy Club in Poorna Prajna College here told media that he was overwhelmed over India's successful maiden mission to enter the Mars orbit. In fact, it is the most memorable day for all the scientific fraternity. He said the credit of accomplishment goes to all the scientists and technocrats who have worked tirelessly for success. Bhat added that it was not easy to enter the orbit of Mars, which is 68 crore kilometres away from earth. In comparison, the moon is only 3.84 lakh kilometres away from earth. Earth and Mars revolve around the sun, while Earth takes 365 days to complete one round, for Mars it is 685 days. It takes at least 10 months for an artificial satellite to reach Mars with the velocity of one lakh kilometres per hour.

The outstanding achievement of ISRO scientists and technocrats lies in the fact that they had decreased the velocity of the artificial satellite to change the track following the gravity of Mars. "The velocity of MOM was 25 kilometres per second, but ISRO was successful in reducing it to four kilometers per second. It was a crucial tactical step. Besides, they had to throw or direct the satellite into an elliptical orbit around the Mars. Now, to and fro communication is possible within 25 minutes from Earth to Mars. It is an outstanding achievement", he explained.

The young react : A student of Aeronautical Engineering at MIT-Manipal Institute of Technology said it was indeed a great achievement and an occasion for all Indians to feel proud about the nation's space technology and abilities. He said India should again attempt for such rarest of rare triumph in space.

A lady studying in first year in Department of Commerce, Manipal University, said she is greatly impressed and happy, as India's name will always shine in the space arena of the world. It is not a small achievement. Indian scientists have taken the country to elevated heights, she beams with pride.

Second year BSc student from PPC Aditya said he is proud and feels that India is not less to any developed countries when it comes to space technology. There was an upbeat and enthusiastic atmosphere gushing all over educational hubs.

Write Comment
|

E-Mail
|
Facebook
|

Twitter
|

Print