Century old Panemangaluru bridge faces collapse threat
Mangalore Today News Network
Bantwal, August 19, 2018: The 100-year-old Panemangaluru Bridge in Bantwal is facing the threat of collapse, owing to the negligence of the administration. The major flood like situation in the Nethravathi river has added to the problem.

Locals had recently alerted the police about the vulnerability of the bridge. Meanwhile, a video clip on the bridge is making its rounds on social media. It shows that the pillars of the bridge have weakened.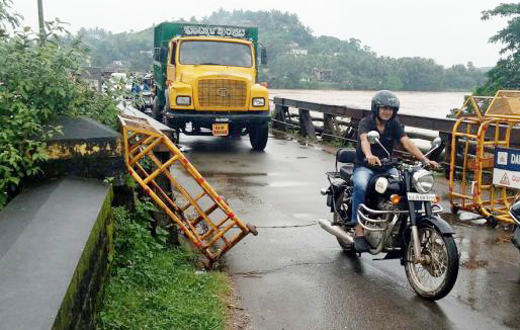 On receiving an intimation from people, Bantwal town and traffic police had placed barricades on both ends of the bridgenow. The movement of vehicles was prohibited as a precautionary measure. However, the vehicles started plying again.

The locals allege that the company, which has received contract for the work on widening of the National Highway, had started working on the construction of a new bridge by laying the foundation under the old bridge. The work is affecting the foundation of the old bridge. Moreover, the rapid movement of ore transporting vehicles on the bridge in 2001-02 had exerted pressure on two main pillars of the bridge. The then DK DC had issued orders restricting the movement of heavy vehicles.

The responsibility to maintain the bridge was handed over to the Town Municipal Council (TMC). Though a board displays instructions on the prohibition of heavy vehicles, movement of buses and lorries continues unperturbed. Maintenance of the bridge is not being done properly, say locals. They pointed out that a bridge situated at Mularapatna in Arala village had collapsed one month ago, owing to the negligence of the officials. Sand transportation lorries were moving day and night on the bridge during the summer.

The Panemangaluru bridge was built by a British company in 1914. Good quality iron was used for the construction. The name of the company is inscribed on a plaque on the bridge. The words 'PWD Madras' is mentioned.

Telecom company cables and drinking water pipeline passing through both sides of the bridge have caused further damage to it.

The town police said that a separate memorandum has been submitted to Public Work and Revenue Departments, to assess the condition of the bridge.

TMC Chief Officer Rekha J Shetty said that if heavy vehicles meet with accidents due to the damaged condition of the bridge, the vehicle owners will themselves be responsible.

Write Comment
|

E-Mail
|
Facebook
|

Twitter
|

Print