Centuries old differences: Sode, Subrahmanya mutts reconcile
Mangalore Today News Network
Udupi, May 30,2017: Reports confirm that 250-year-old differences between Sode Vadiraja Mutt and Sri Subrahmanya Mutt were reconciled and buried. The seers of both the mutts decided to begin a new era with harmony and peace on May 29, Monday.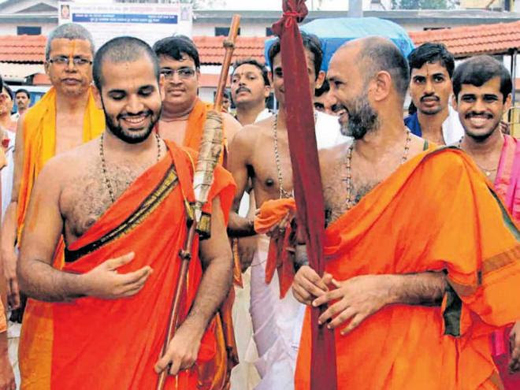 Pejawar seer Vishwesha Theertha Swami, who took steps to set right the differences between two seers, termed the occasion a historic one. The seers, who guide the society, should always show path to devotees.
Differences are not permanent. They should be buried in the interest of the society. The reunion of two Vaishnav mutts will go down as an important milestone in the spiritual legacy of Udupi Sri Krishna Mutt and Sri Subrahmanya Mutt, he described.

Sode seer Sri Vishwavallabha Theertha Swami said it all happened according to his Guru Sri Vishwotthama Theertha Swami's wish.

He said the year he was taken as a disciple of the mutt, he was told that the differences with Subrahmanya Mutt should be buried and a new era should begin which will make the devotees look up at the seers for guidance.

Subrahmanya Mutt seer Vidyaprasanna Theertha Swami said the differences between brothers long ago were not strong and there was no hate as such. But the antagonism continued generations after generations. Seers, who preach spiritualism to the society, are not supposed to continue hate and they should stand as the role models for the people, he added.

Both seers visited Anantheshwara, Chandramouleshwara and Sri Krishna temples and offered prayers jointly. The Sode seer will shortly visit Subrahmanya Mutt.

The problem began when some differences erupted among three brothers, natives of Undaru village in the district, head of the Vadiraja Mutt and Sri Subrahmanya Mutt in the 18th century.

Seers Vishwanitdhi Theertha Swami (1740-1753) and Vishwadheeshwara (1753-1803) had adorned the Sode Peetha consequently and their younger brother was a disciple in Subrahmanya Mutt.

Once, the Subrahmanya Mutt seer had invited the Sode Mutt seer for a puja. However, the puja was over by the time latter turned up at the mutt. Later, the Sode Mutt seer decided to cut off all relations from Subrahmanya Mutt. However, it is now admirable that the superfluous misunderstanding is now ended.

Write Comment
|

E-Mail
|
Facebook
|

Twitter
|

Print