Centenarian Kannada activist, poet Nadoja Kayyara Kinhanna Rai no more
Mangalore Today News Network
Kasargod, Aug 09, 2015: Nadoja Kayyara Kinhanna Rai, the renowned Kannada activist, poet, writer and freedom fighter is no more. He breathed his last at his residence at Badiadka on August 9, Sunday.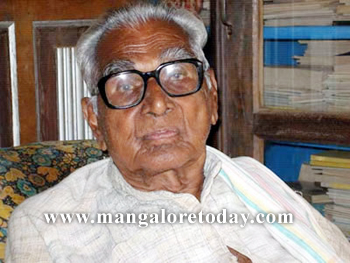 Hundreds of people including his friends, well wishers and admirers are thronging his residence to pay their last respects to Rai.

Kayyara Kinhanna Rai was a towering personality who had dedicated his life for Kannada, living in the Gadinadu Kasargod and fighting for the merger of Kasargod with Karnataka.

A staunch Kannada activist and a renowned writer his indomitable spirit was such that it could ignite minds, enliven hearts and bring changes. Such was the strength of his undying love for Kannada. He was known for his untiring campaign demanding the integration of Kasargod with Karnataka by implementing the Mahajan Commission Report.

Born in the tiny village of Peradala in Kasargod on June 8, 1915 to Duggappa Rai and Deyyakke, his parents had fondly named him as Kayyara Kinhanna Rai. As Peradala then did not have a primary school, his grand father Shanker Alva got him enrolled to Badiadka Primary school.

After his schooling, Kayyara joined the Mahajan Sanskrit College. He succeeded both in Kannada and Sanskrit Language entrance test and even passed out Vidwan and Shiromani exams. He came out in flying colours in BA by topping his college and later on stood second in MA exams. He even underwent Teachers Training course and passed in first grade.

A young Kayyara Kinhanna Rai joined at Peradala Navajeevana High School as a teacher in 1945 soon after his high school education. He pursued higher studies while serving a teacher. His teaching profession was also worthwhile and he remained a teacher for over three decades and even won the National Award for Best Teacher.

Despite his mother tongue being Tulu, Kayyara developed a strong bonding with Kannada right since his child hood. By the time he graduated he was well versed, in Tulu Kannada Sanskrit as well as Malayalam. Kayyara was also a true Gandhian and had once walked all the way from Peradala to Kodialbail in Mangalore in 1943 with his school mates to catch a glimpse of Gandhiji. On seeing Gandhiji, Kayyara for a moment felt he was a Godman. This had inspired him to pen the now famous poem –'Gandhi Darshana.'

Kayyara was also inclined towards journalism during his student days. At the age of 12 he brought out a handwritten journal named 'Susheela' with the help of his teachers. In the later years, he contributed to dailies including Swadeshabimana, Deshabhimani and Rashtra Bandhu. His works including stories, poems, articles were published in almost all dailies of those times thus earning him a name even in the field of journalism.

Kayyara was also greatly inspired by Rashtra Kavi Manjeshwar Govind Pai and had even authored his biography. He had even plunged into the freedom struggle during his college days in Mangalore by joining hands with great freedom fighters like Narayana Kille,KK Shetty, Krishnappa Tingalaya,UP Mallya and Srinivas Mallya.

A collection of poems 'Srimukha' was his first contribution to the literary world. He had also authored books on theatre, grammar, children apart from stories and novels. Some of his prominent works include Aikyagana, Punarnava, Chethana and Koraga.

Bestowed with several awards Kayyara had won the Karnataka Sahitya Academy Honorary Award in 1969, Rajyotsava Award in 1985, Akhila Bharata Tulu Sammelan Honorary Award in 1989, Nadoja Award of Hampi Kannada University and Honorary Doctorate by Mangalore University in 2005.On behalf of the Karnataka Government he was conferred the prestigious Pampa Award for the year2013 recently on the occasion of his stepping into his birth centenary year. He had also been honoured by the Kerala and Tamil Nadu governments in recognition of his achievements.

He had also presided over the second Kannada Sahitya Sammelan held in Dakshina Kannada in 1985, Akhila Bharatha Janapara Sahitya Sammelan in 1988 and 66th Akhila Bharatha Kannada Sahitya Sammelan in 1997.

He was a man who strongly feels that language and culture transcend geographical barriers. Dr Kayyara Kinhanna Rai was a True Champion of Kannada.

Write Comment
|

E-Mail
|
Facebook
|

Twitter
|

Print