Catholic Sabha, honours Patron Bishop, religious and leading lights
Mangalore Today News Network
Mangaluru, Nov 05, 2018: A large gathering of representatives of the Catholic Sabha, Mangaluru and Udupi diocese, with great joy held a felicitation programme to honour and felicitate the new bishop of Mangalore, Rev. Dr. Peter Paul Saldanha, Patron of the Sabha.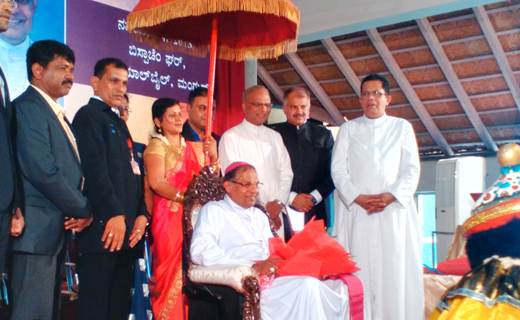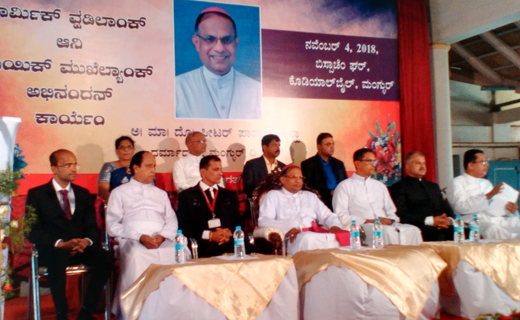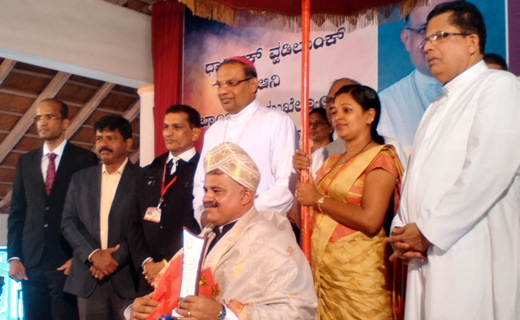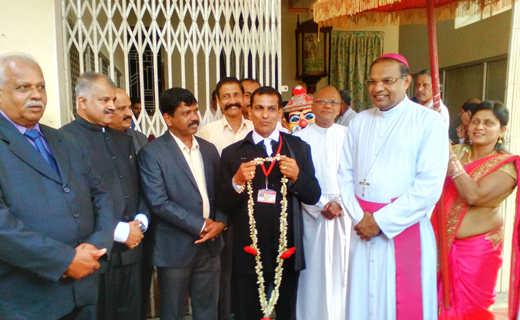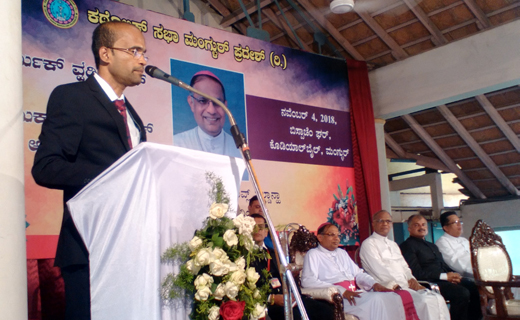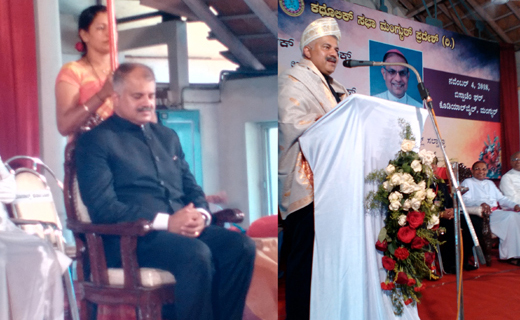 In keeping with it's norms it also extended felicitations to the new Vicar General(VG), Rev Fr. Maxim Noronha, former VG Msgr. Denis Moras Prabhu and two young leading lights of the Konkani Catholic society. Member of the Karnataka Public Service Commission (KPSC) Dr.Ronald Anil Fernandes and Chairman of the MCC Bank Anil Lobo Fermai. The function was held in the hall of the Bishops House at Kodialbail on Nevember 4, Sunday.

The guests were ceremoniously conducted to the hall with the traditional 'Gumtam Poda' (Song with traditional pots) amidst cheering, After a beautiful Indian style prayer song, the welcome came from David D'Souza, the VP of the Sabha. Report was read by the general secretary Ms. Celestin D'Souza. On the dais were Bishop Rev.Dr.Peter Paul Saldanha, VG Rev. Maxim Noronha, Former VG Msgr Denis Moras Prabhu, Rev. Mathew Vas, Rev. Ferdinand, Dr. Ronald Anil Fernandes, Anil Lobo, Rolphy D'Costa, Alwyn Quadros, Nigel Periera and so on.

After felicitation, and as per his desires the shawl and peta being precluded; Bishop Peter Paul Saldanha lauded the selfless service of Catholic Sabha and at the same time highlighted need for more community youth in higher government services.

He also expressed his special desire to encourage the laity to assume leading roles in matters of church administration and it's institutions as desired by Pope Francis. He stressed his new mantra that of "Bandhavaya" and including all other communities too in welfare work and exhorted the Sabha members, "Yelli irru, Yenu irru....Christaragirru" in line with the Kannada saying. He stressed the needed change in new approaches need be chalked out and he too would support the cause of the needy.

The two lay leaders felicitated indeed are a model for the youth, for they come from regular backgrounds and their sincere all round efforts have made them leading lights :

Dr. Ronald Anil Fernandes : Former senior editor of Deccan Herald, President of the press club and a local activist and social worker, was appointed member, Karnataka Public Service Commission (KPSC) . Ronald is a recipient of prestigious Sarojini Naidu Award-2009. He was also conferred Karnataka Media Academy award for the year 2016. He is also a recipient of Fr Luis Carrenho Award in 2011 instituted by Indian Catholic Press Association New Delhi and Rajyotsava award. He was also a senate member of Mangalore University. He is an active contributor in Red Cross and Prison Ministry India (PMI) and many social and literary activities.

Dr. Fernandes said that only sincere efforts can can cause God's grace to take one to the heights of achievements, nothing is impossible today.. He wanted more educated youth to go in for public service; the first step he said is to clear the exams and appear for interview. "Do not give up after the first round, if you do not succeed go for a second try or more.....success is the result of failure and better efforts. Many more from the Konkani community need to go into public services. Catholics are the providers of huge services to the state in education, medical services and social action....even though you are only a tiny community...your presence in the Govt. services will bring better integrity and quality too."

Anil Lobo Fermai : A self made business man and social worker who has been a pillar of the church and worked unceasingly, in particular in various capacities of the Catholic Sabha and organised many show case revolutionary projects for the Catholic youth and people. He is now the Chairman of the 104 year old Mangalore Catholic Co-Operative (MCC) Bank . He has promised to see it in a new light soon.
Anil Lobo, expressed his desire in clear terms that the laity and women must must be given really valued places in the administration of the church and it's institutions. The laity should not be used as cheap labour only, while consecrated persons act as owners and management.
Many huge buildings of the church are grossly under used, proper use of such buildings for suffering people must be initiated.
He said he is glad that the new Bishop has indicated to bring in freshness to the work of laity in keeping with the desires of Pope Francis. He is satisfied that the bishop shows signs of a broader and democratic outlook in church affairs and wishes to carry along all that come forward to serve in the right manner.

Celine Rodrigues and Francis DCunha compered the programme. CS President Designate Stany Lobo rendered vote of thanks.

Write Comment
|

E-Mail
|
Facebook
|

Twitter
|

Print