Catching up with 'Go Cashless' initiative
Mangalore Today News Network
Mangaluru, Dec 25, 2016: Going cashless has become the new Mantra these days ever since PM Narendra Modi has started encouraging cashless transactions post demonetization. In Mangaluru some small traders too are going cashless thanks to the initiative of some organisations to train them. Many small vendors and traders have now found a new friend in e-wallets and online payment modes to keep their business tugging forward in this time of need.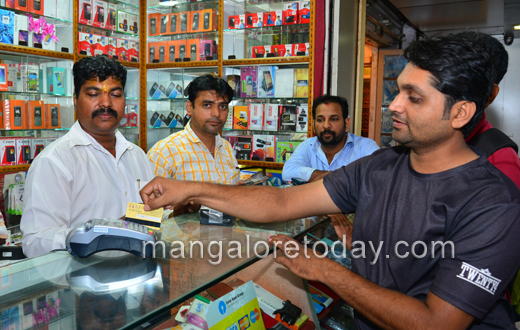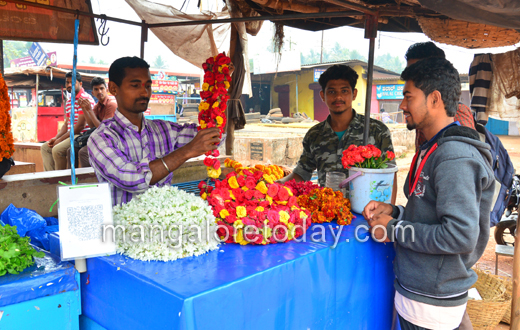 Post-demonetization, many who suffered a slump in business have now risen to the occasion and are conveniently running their businesses through electronic modes of payment. Retailers, students, professionals, shopkeepers have slowly begun to adopt it to tide over cash crisis. People, who have not used digital payment, are now updating themselves.

Move across the city and one will find many small vendors as well as businesses opting for mobile and online payment services. The city is slowly waking up to the Cashless initiative. Boards outside a few shops mention debit/credit cards, e-wallets accepted. Some small traders are also highlighting their mobile numbers to facilitate e-payment.

Charmuri vendor enters Cashless Duniya
Gokuldas Prabhu, a Charmuri vendor at the busy Carstreet in Mangaluru too has set foot into the Cashless Duniya like a few others.

Prabhu who runs a shop by name Kamath Condiments since the past 15 years close by the Venkataramana Temple has downloaded the e-empower app of Canara Bank to assist cashless transactions.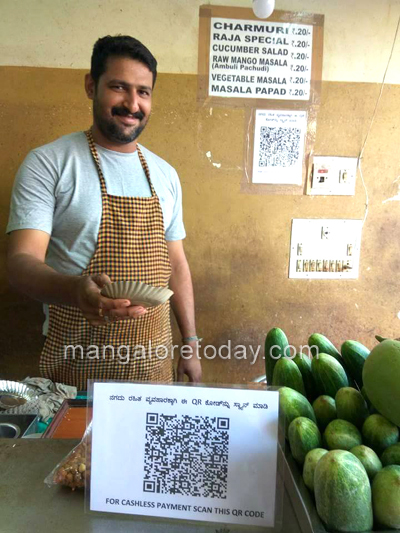 Prabhu says he learnt how to use the App during a programme organised by Sevanjali Pratishtan and Yuva Brigade a few days ago and decided to go in for cashless transactions.

Switching to digital mode
A few shopkeepers have also narrated their cashless initiative and the customers' reaction to the same. A xerox shop at Carstreet in Mangaluru proudly has a poster pated on its front glass door telling customers that Paytm mode of payment is accepted. KA Shenoy, owner of the Venkateshwara Xerox shop at Carstreet explains how he chose to opt for the digital mode when business took a downward edge following demonetization. "There's not much awareness about digital banking now. But I hope it will improve in the days to come," he adds.

A fruit and vegetable seller at Central Market in Mangaluru has got a swipe machine. Irshad Pandeshwar, the owner of the shop says the Swipe Machine has become inevitable due to the demonetization. Speaking about the inconveniences he faced whenever a customer who made a small purchase offered him the Rs 2000 note resulting in problems in giving change, he says swipe machine is the answer to the problem. Irshad adds at least a few customers are using the swipe machine as of now and hopes many more would follow suit.

One can also notice a few flower sellers too opting for the digital mode through Paytm.

A reality check and a quick question to a few passers-by also revealed how people have been fed up with the 'No cash' boards in ATMs. Though banks as of now are allowing withdrawal of Rs 24,000 per week, the fact that most of the banks were mainly issuing only Rs 2000 notes has proved to be a big deterrent. Small purchases have become extremely difficult with none ready to offer change for the Rs 2000 notes, many complained.

Mangaluru too is feeling the heat. Though banks do not see long queues, ATMs have remained dry for long. Bank staff have to deal with angry customers many a time and they have tried to patiently hear the grievances of the latter.

"The road ahead seems to be tough post-demonetization, but hopes things would improve soon," said Ramesh, a dealer of electronic products in the city.

Hope the word comes true and ATMs would soon function round the clock as usual by keeping the 'No cash' boards away.

Write Comment
|

E-Mail
|
Facebook
|

Twitter
|

Print