Caste discrimination, Restriction on women's entry in temples is unfortunate
Mangalore Today News Network
Mangaluru, Nov 11, 2014: Speaking at 'Kanaka Tatwa Chintana', lecture series, conducted by Kanakadasa Research Centre of Mangalore University at Mangalagangothri on Nov 10, Monday actor and MLC Jayamala lamentd there is practically no change except on the surface, restrictions on women from entering temples exists in many places a most unfortunate matter. Things have not changed much from the era of Kanakadasa, she said.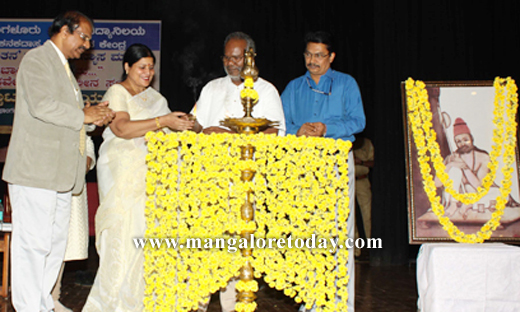 Stating that caste and gender based discrimination are very alive even to this day, Jayamala said that touching of an idol of a deity by a devotee as against the sanctity of the temple is disheartening . In reference to the controversy that surrounded over her touching the idol of Shabarimalai Swamy Ayyappa, she said the emotional bonding between the God and a devotee surpasses all barriers. "I had to bear a lot of mental torment after the incident but at last I won the case after a legal fight of six and a half years, which is evident to the fact that justice is same for all." She meanwhile said the demand from the downtrodden and women for their right to gain entry into temples, was a matter of humanity. Denying entry to the temples is a denial of human rights, Jayamala added.

An intellectual from Mysuru Prof H Govindaiah said that today, the nation has been split into two groups : namely, the brahminical and non-brahminical. This is evident from the practices like Made Snana. "The priestly class has manipulated the rituals and customs, to underestimate the backward section of the society," he said. "If the door of a temple closes for some section of the society, then it is not in keeping with Indian culture, because, the system was not a part of Indian culture 5,000 years ago, he said. The real Indian culture is the one, which crosses all social barriers," he added.

Saint Poet Kanakadasa has maintained this very fact through his life and works. He had religious, cultural and spiritual intellect. Kanaka stressed that one can not experience the Almighty, without shunning one's ego, he said. He said that the revolution led by B R Ambedkar was not given a logical end.

Had it been done so, things would have changed and there would have been no caste based discrimination today. Intellectuals have to acknowledge the developments such as widow priests serving in temples. The progressive movements are at a stage where they need introspection as casteism and communism are getting worse these days and the fight against them are failing to yield any result.

Christ College, Bangalore Professor S P Vagishwari also spoke. Mangalore University Vice Chancellor Prof K Byrappa presided over. Kanakadasa Research Centre Convener Prof B Shivaram Shetty delivered a key-note address. University Registrar Prof P S Yadapadithyaya was present. Parameshwara Mundugodu rendered the compositions of Kanakadasa.

Write Comment
|

E-Mail
|
Facebook
|

Twitter
|

Print