Call to Mangalureans to apply to ward committees
Mangalore Today News Network
Mangaluru, Nov 11, 2020: The beginning of ward committees in Mangaluru has to be broad-based with a concern for social justice and to make democracy work on the ground and for all people. Formation of the committees is the key but keeping social issues core to this agenda is another important focus area, said Centre for Development Studies and Education Director Dr Rita Noronha.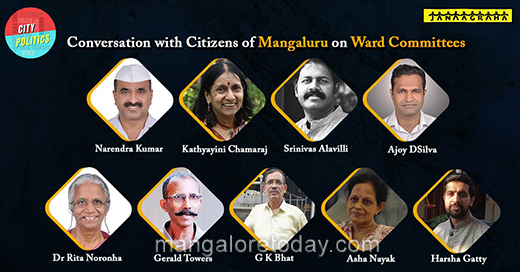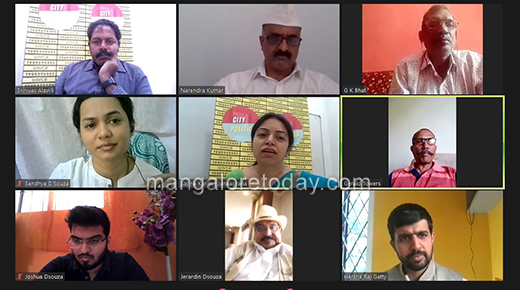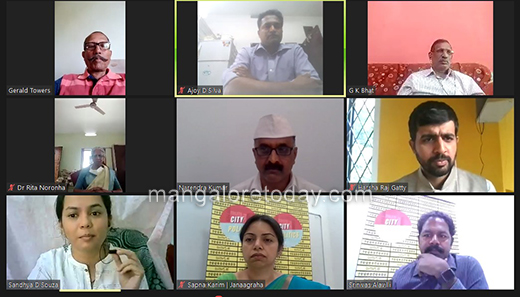 She was one of among the eights panelists addressing Janaagraha Centre for Citizenship and Democracy's 5th City Politics Webinar – 'Decoding Ward Committees for citizens of Mangaluru' on November 11 at 11 am on Zoom.

"We have a historical process of exclusion from a whole lot of resources – economic, political, even in terms of opportunities. And this process is set like stone. People are silenced/ their voices are repressed for years, together from women, SC/ST, Dalits, slum communities are silenced. How are their issues being spoken in terms of governance issues in Ward Committees? How do cities benefit from all services? How do we build inclusive cities? Every ward should have a vision in making Mangaluru healthy, inclusive city for people from all categories who can benefit from all the services and activities. It's time to wake up from the silence," Dr Noronha said.

"Ward Committees will be the watchdogs to hold Corporators accountable. It is the critical point of problem-solving, to give the common man what is due. The committee will follow up on development plans, their implementation and the quality of work delivered and funds utilised. Ward Committees will function in the true spirit of the 74th amendment and end corruption!" said MCC Civic Group Co-Founder Ajoy D'Silva.

"The time has come for 600 citizens of Mangaluru to stand up and be counted! Ward Committees bring democracy to the doorstep. Not many are aware of the role of ward committees and have misconceptions about it. Today, Janaagraha tried to bring together concerned citizens of Mangaluru and experts to create much-needed attention on ward committees as the deadline is fast approaching. We are committed to supporting the City of Mangaluru as they begin this journey in participatory local governance by assisting the Commissioner, the Corporators and the citizens," added Srinivas Alavilli, Head, Civic Participation at Janaagraha, Bengaluru.

"Ward Committees have been envisioned in the constitution, which says that for territorial, democratic and decentralisation, ward committees have to be set up in places with 3 lakh + population. This can be amended by state rule. It has been there in the constitution, and therefore, enforceability is there. Again, accountability, transparency and the management of ward committees are key to smooth functioning," Senior Advocate and Special Public Prosecutor Asha Nayak said. She also added that she is interested to become a ward committee member.

Narendra Kumar, President of Nagarika Shakti spoke on his struggles in setting up ward committees in Mangaluru. "Fundamentally, we wanted to ensure that everyone gets to be a part of governance and even though we struggled a bit for Mangaluru, thankfully with the support of Kathyayini, we explained to people about the importance of becoming members. Our next vision is to make sure that citizens become members of ward committees," he said.

Social Activist GK Bhat appealed to the citizens of Mangaluru to apply to become ward committee members. "Corporators are not allowing people to govern. They are trying hard to keep us out of this. No one is challenging this; hence they are the ones managing the show. With Ward Committees, corporators can be held accountable," he said adding he has already applied to become a ward committee member.

"Even though most of the people are silent, there are few percentage of active people, and the reason is because of MCC Civic Group, through which citizens are aware and informed about ward committees and ward sabhas. People are lazy but also concerned. Because of technology, there cannot be hush ups by the corporator. They cannot sideline issues anymore. They have to be accountable, and loopholes will be caught. I definitely think 600+ applications will be received based on the population and this is good enough representation," said Gerard Towers, RTI and Civic Activist.

"It is great that the Mangaluru ward committees plan is actualised. There is resistance from elected representatives to empower people in decision making. They are supposed to represent us and allow participative democracy. At all times, minutes of the previous meeting needs to be readout. The action that was taken after to address issues, grievance redressals, acknowledgements etc. Members should be thorough on how things function and must be fully aware that you can appeal to the high court in the case of your requisitions being unheard," said Kathyayini Chamaraj, Executive Trustee of Citizens' Voluntary Initiative for the City of Bangalore (CIVIC), Bangalore.
"The Ward Committee platform is the formal mechanism to institutionalise local citizen engagement. It may have its flaws, but it the most important platform for citizens to connect with local ward and neighborhood development. Janaagraha is eagerly awaiting the formal announcement of Ward Committees and we look forward to bringing our learning and expertise to empower citizens and Coporators with technology tools and platforms to empower the Ward Committees through our IChangeMyCity platform," said Sapna Karim, Head, and Civic Participation at Janaagraha.

Janaagraha has also added a page on its website, to inform citizens of Mangaluru the latest updates on ward committees - http://www.janaagraha.org/mangaluru/
Over 200 citizens participated in the webinar and panel discussion moderated by Harsha Raj Gatty, Editor, Solmelu. The discussion brought out relevant issues faced by citizens of Mangaluru as well as perspectives on why joining a ward committee will benefit the city.

One of the participants Padmanabha Ullal expressed hope that the ward committees will not only help improve governance but also serve as forums for interactions with residents to get to know each other.

With November 17th being the deadline for Mangaluru citizens to submit ward committee applications, Janaagraha through its City Politics webinar aimed to get Bengaluru's active ward committee members share their knowledge and experiences as we as critically analyse the ground situation at Mangaluru by speaking to citizen leaders.


About Janaagraha:

Janaagraha Centre for Citizenship and Democracy is a non-profit trust in the Jana group co-founded by Swati Ramanathan and Ramesh Ramanathan in 2001. Janaagraha's mission is to transform quality of life in India's cities and towns. It works with citizens to catalyse active citizenship in city neighbourhoods and with governments to institute reforms to city governance (what we call "City-Systems").
The "City-Systems" framework is a whole-of-systems approach to solving for India's cities and comprises four distinct yet interdependent components: Urban Planning and Design (master plans, design standards for public utilities), Urban Capacities and Resources (municipal finance, municipal staffing and technology), Political Leadership (empowerment, legitimacy) and Transparency and Citizen Participation (public disclosures, citizen participation, service level guarantees and grievance redressal).
City Politics is our attempt at building a thriving community of people interested in city policies, politics, and concerns and challenges across neighbourhoods and cities.
Link to watch the webinar: https://www.facebook.com/ichangemycity/videos/403887657455909/

Speaker Names and Contacts

1) Srinivas Alavilli – 99454 02662

2) Narendra Kumar – 91084 57205

3) Kathyayini Chamaraj – 97318 17177

4) Ajoy D'Silva – 93412 16181

5) Dr Rita Noronha – 99013 65360

6) Asha Nayak – 99861 71837

7) G K Bhat – 94486 26400

8) Gerard Towers – 92433 06531

9) Sapna Karim – 98543 20409 (Janaagraha, Civic Participation, Head)

10) Harsha Raj Gatty - 9448895400 (Moderator)

Write Comment
|

E-Mail
|
Facebook
|

Twitter
|

Print