CM to inaugurate M'lore Dasara on Sept 27
Mangalore Today News Network
Mangalore , Sep 21, 2014: Chief Minister Siddaramaiah will inaugurate the Mangalore Dasara celebrations at Shree Gokarnanatha Kshetra at Kudroli on September 27 at 6.30 pm, said Temple development committee member Harikrishna Bantwal.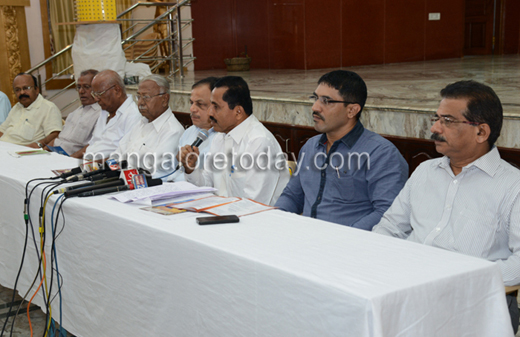 Addressing a press meet here on Saturday, he said that under the guidance of former union minister Janardhan Poojary, who was instrumental in renovating the temple, Mangalore Dasara is being held in the city for the last 23 years.

The Navaratri festival at Kudroli Temple has its own significance as it is being celebrated as Mangalore Dasara. Installation of Navadurge and Mahaganapathi idols during the festival attracts large number of devotees and tourists to Kudroli.

The installation of the idols will be held at Gokarnanatha Kalyana Mantapa on September 25 at 11.15 am. Mayor Mahabala Marla and Temple Development Committee Co President Urmila Ramesh Kumar will attend the installation ceremony.

The Mangalore Dasara procession held every year marks the end of ten-day festival at Kudroli Temple. The procession will be attended by 50 to 60 tableaus and artistes from different parts of the state, About 20 lakh bulbs will be used for decorating the nine kilometres road where the procession will pass through. The Sharada matha Shobhayatre will start from Shree Kshetra at 4 pm through Kambla road and will move towards Lady Hill Circle, Mannagudda Road, and will proceed towards Lalbagh, Ballalbagh, PVS Circle, Navabharath Circle, K S Rao Road, Hampankatta and will move towards right from University College Circle and proceed towards Ganapathi High School, Venkatramana Temple, Car Street, New Chitra talkies, Alake and Gokarnanatha temple.

The temple committee members appealed to all the shop keepers and building owners to illuminate the building to add colour to Mangalore Dasara celebrations.

Cultural programmes :

He said that cultural programmes will be held from September 25 to October 3 from 6 pm.

On September 25— sangeetha saurabha by Swara Madhurya of Yashawisni Ullal (6 pm to 9 pm), September 26—'devotional songs by Saptaswara Orchestra of Prabhakar Thannirbavi (6.30 pm onwards); September 27— Jnana Aithal and team to present music, dance and rasamanjari by Reality show kids (6 pm); September 28— 'Nritya sangama' by Gana Nritya Academy (6.30 pm), September 29— Bharatnatyam by Rashmi Udupa (Chennai) and team (6.30 pm), September 30— 'Tulunada samskriti' by Kala Kumbha Samskrithika Vedike (6.30 pm), October 1—Variety of dance by Rashmi Kundar and ream (6 pm to 7.30 pm) and dance by Sizzling guys (7.30 pm to 9 pm), October 2—dance by Pramod Alva Dance Crew of Indias Got Talent show (6.30 pm to 9.30 pm) and 'Shiva tandava dance' by Devika Parameshwari and 'Bhakti gaana sudha' by Rameshchandra, Bangalore (6 pm onwards). Arrangements

To mount a watch on the visitors and to ensure safety of the devotees and tourists who visit the temple, CCTV cameras have been installed at 25 places in the temple premises. At the same time, as there was congestion in parking of vehicles, the temple and MCC has developed parking areas on 16,000 square feet area which can accommodate 75 vehicles.

Permission for tableau must : All the tableau that are to take part in the Dasara Shobhayatre on October 4, should obtain permission from the temple authorities before September 25. The participants should give their name and theme for the tableau. Tableaux that fail to take permission will not be entertained, said Temple development committee member Harikrishna Bantwal. Three tableaus from Kerala Janapada Academy— 'Teyyam,' 'Kathakkali' and 'snake boat' will add colour to the procession, he said.

Write Comment
|

E-Mail
|
Facebook
|

Twitter
|

Print