CDs of Tulu folklore of coastal districts released
Mangalore Today News Network
Udupi, April 25, 2016: Two CDs containing four large and long Tulu poems, 60 Tulu "padadanas", "sandhi", "uralu", "kabite", poems and songs collected by scholar-researcher late Susheela P. Upadhyaya, were released at a function organised by Prachyasanchaya Samshodhana Kendra, Sahitya Balaga and Tulukoota at Udupi.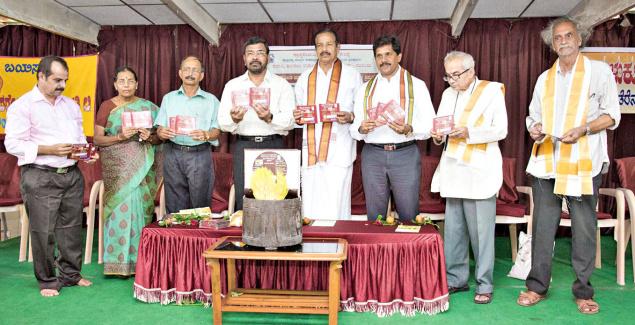 Speaking on the occasion, Prof. K. Chinnappa Gowda, Vice-Chancellor of Karnataka Folklore University said that Tulunadu was a rich treasure trove as far as folklore was concerned and scholars not just from the State but also abroad had studied it. One of the important aspects was that the study of folklore of Tulunadu had been systematic and scientific. "In fact, the study of folklore of the coastal districts can become a model for the study of folkore of the rest of districts in the State," he said.

A lot of credit should go to the scholars, U.P. Upadhyaya and his wife late Susheela P. Upadhyaya, who had worked for years and brought out six volumes of a Tulu lexicon. Only those who had gone through the volumes could understand the amount of work that had gone into making it. Their research and painstaking work were responsible for bringing out the fact that Tulu had a rich vocabulary.

The Regional Resources Centre for Folk Performing Arts (RRCFPA), an ancillary unit of the MGM College, was a centre of attraction for all scholars, who visited and carried out their research and studies there. A lot of material on Tulu language, culture and folkore had been documented and archived at the RRCFPA.

The Karnataka Folklore University too would give importance to documenting and archiving all aspects of the folkore of the State. It was expecting special grants from the government for this purpose.

"While all the documenting and archiving is good, the real challenge is how we can transmit this folkore to the coming generations," Prof. Gowda said.

Janaki Brahmavar, president of Karnataka Tulu Sahitya Acadmey, S.A. Krishnayya, Syndicate member of Karnataka Folklore University, Indrali Jayakar Shetty, president of Tulukoota, Harikrishna Punaroor, former president of Kannada Sahitya Parishat, and K.P. Rao, president of Prachyasanchaya Samshodhana Kendra, attended.

Write Comment
|

E-Mail
|
Facebook
|

Twitter
|

Print