CAs' now have imporved scope with GST
Mangalore Today News Network
Mangaluru, Dec 13 2018: Speaking at CA students' two-day conference "Vidwath" organised jointly by Institute of Chartered Accountants of India (ICAI) and Central India Chartered Accountant Students Association (CICASA) at Townhall Mangaluru december 12, Wednesday, the CA profession was undergoing a sea change. Chartered Accountants (CAs) now need to improve their skills mainly in use of technology. CAs must be well-versed in technology, opined ICAI former president G Ramaswamy.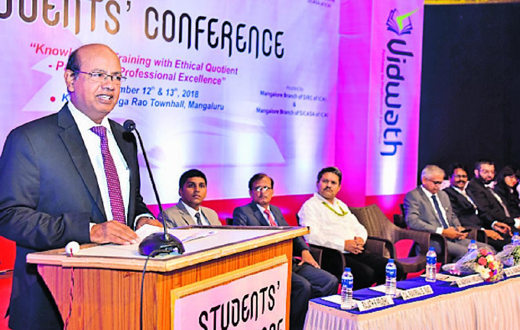 Technology was the main stay and is being used to speed up auditing. CAs must update their knowledge of new technological developments, he added.

"Parents want their children to opt for engineering and medical courses. But, we must realise that nearly 10 lakh engineering graduates pass out every year and finding a job has become difficult for them," he observed.

Ample opportunities : "There are ample opportunities for those who study a CA's course. After the introduction of Goods and Services Tax (GST), the scope of CAs has widened." Ramaswamy said that CAs play a pivotal role in the economic development of the country.

Ethics must : Recalling the Satyam scam, Ramaswamy said, "CAs must not allow practices that cheat the government. They should be ethical. ICAI has fixed a maximum penalty --Permanent Removal from Membership--to CAs practising without ethics. Monetary penalties were also imposed on ICAI members involved in the Satyam scam," he recalled.

Conference director and ICAI central council member Madhukar N Hiregange said that the CA course was not a sprint.

"It is a marathon. In order to complete the course, students usually go to coaching classes. But, mentors at the coaching classes are usually unable to really help students. Beware of such coaching centres", he said.

Write Comment
|

E-Mail
|
Facebook
|

Twitter
|

Print