Businessmen threatened police step in with protection
Mangalore Today News Network
Mangalore, Aug 23, 2014 : Slowdown in the real estate, the ATM of the underworld, gangs have started harassing small businessmen too for money. Gangs have reportedly called many small businessmen in the city. Consequently, police have provided security to such businessmen after assessing the threat to them.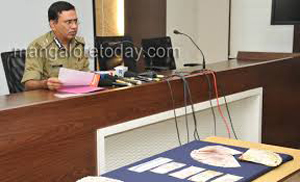 The modus operandi of the gangs owing allegiance to Bannanje Raja, Ravi Poojary, Koraga Vishwanath Shetty, Kali Yogish and others, seems to be simple: Watch business establishments and then make calls to the them demanding money. While some have yielded, many have informed police and have taken protection.

Police commissioner R Hithendra said: "We have provided security to persons after the department assessed the threat to them. Those who are considered vulnerable have been provided security." He did not disclose the exact number of businessmen provided with security. "The numbers and names cannot be disclosed since the underworld will know who is not on the police security list. Then they will move to threaten others,"

Asked whether businessmen have been provided protection after registering complaint or just based on information, the police commissioner said: "Complaints are there, but we have not made them public lest they create panic. What we are administering is preventive medicine."

Hithendra said, "The only way to prevent 'these illustrious characters' from threatening is to neutralise them. Their local support system has to be dismantled brick by brick and we are at it." Several gangsters owing allegiance to Kali Yogish were arrested recently. Police said they have not been blindly giving protection to all. "There are some people who have got missed calls. When we checked their call records it was clear they had not spoken to anybody, but it was just a missed call. On our part we assess the threat to them and then proceed," he said.

Based on the guidelines of state-level security categorization committee, security is provided either free or for payment. For instance, police have been providing free security to a former academy chairman for the past two years. A businessman targeted by Kali Yogish said, "The caller said, 'You got money; I have power' hinting that I should pay him. But I did not yield. If all follow suit, this menace will be a thing of the past."

Write Comment
|

E-Mail
|
Facebook
|

Twitter
|

Print