Burundi student mother with baby receives a PG degree
Mangalore Today News Network
Mangaluru, July 16, 2017: It was a memorable day, Mugisha N. of Burundi came with her three-month-old baby to receive her certificate as she completed her two-year postgraduate course in Electronics from Mangalore University this year.

She was one among 22 foreign students who received their postgraduate degrees at the first international students' graduation day at the university campus on July 15, Saturday.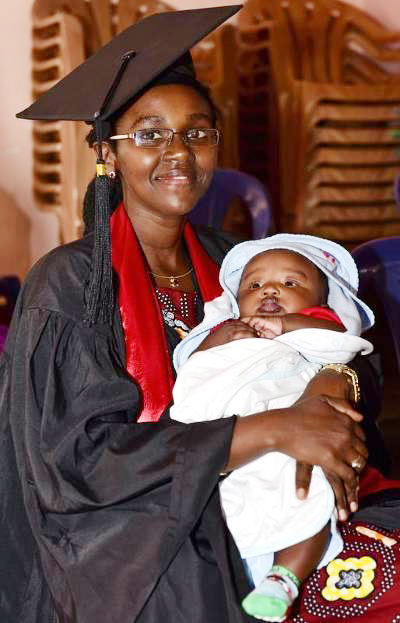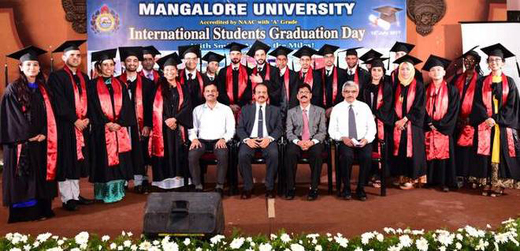 They joined the university for higher education from the scholarship offered by the Indian Council for Cultural Relations (ICCR).

Though 33 students were eligible to receive their certificates, 22 were present.

Ms. Mugisha had delivered her baby here during her project work. She was the cynosure of all eyes as she went to the stage with the baby to receive the certificate from K. Byrappa, Vice-Chancellor of the university, and R. Venugopal, Regional Director, ICCR, Bengaluru.

She said that her husband was a physiotherapist in Burundi and she was teaching Applied Science before joining the university here. The couple named the son as Davemiguel. Mugisha, 32, a citizen of Burundi,said, "Initiallynone of my family members were with me here and I stayed in a hostel. I managed everything on my own till the seventh month after which my mother came to help me. Today, I am happy because my struggle helped me to earn a degree certificate for which I worked for years,"

Another student, Fathima Hamid from Afghanistan, who completed her studies in Political Science also delivered a baby girl during her stay here.

Her husband, Javed Hamid, is pursuing Ph.D. in Business Administration in the campus. But Ms. Hamid was not present to get her certificate as the couple had returned to their country on June 23.

Noor Noori from Parwan University, Parwan Province, in Afghanistan, completed his studies in Mass Communication and Journalism.

He said that as he knew Hindi and watched Hindi films earlier he did not find his stay here very difficult. He praised the library facility in the campus.

Addressing students on the occasion, VC Byrappa said that the international house being built in the university campus now, mainly to accommodate foreign students, would have 450 studio flats. It could accommodate 600 persons. It was expected to be completed in a year from now.

The Vice-Chancellor said that presently 220 foreign students studied in the university. In addition, 100 foreign students are expected to join in the current academic year. Now the university had the facility to accommodate 300 students.

He said that the university would make efforts to admit foreign students directly in addition to those who joined through ICCR scholarship. Byrappa added that the birth of two children has given our university campus a 'gender-friendly' tag.

Students about their experiences and their stay in the campus said that it's a great and different atmosphere that helped them to grow. Indang, a student from Indonesia, expressed that the campus has given her a new frame of mind and life.

As many as 33 students from nearly 11 countries graduated from the university on July 14,Saturday. The graduating students come from countries like Nepal, Afghanistan, Syria, Egypt, Sri Lanka, Kazakhstan, Indonesia, Vietnam, Hungary, Tanzania and Burundi.

Write Comment
|

E-Mail
|
Facebook
|

Twitter
|

Print