Blunders in textbooks shocking, needs urgent action
Mangalore Today News Network
Vittal, June 07, 2018: Adding to the shocking blunders by the Education Department in state syllabus high school textbooks, the eighth and tenth standard textbooks of state syllabus, distributed in Vittal region, are found over flowing with errors.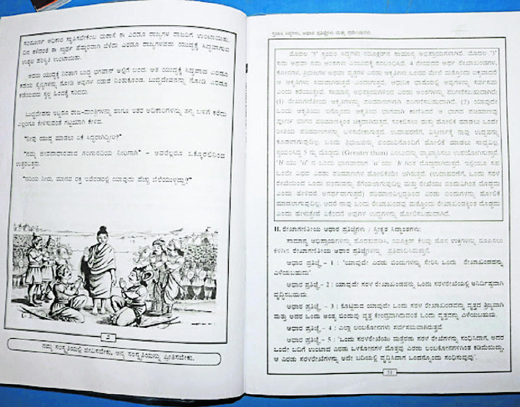 Only two pages of the first lesson 'Buddhana Salahe' is related to the topic in the eighth standard second language Kannada text book. The other pages are related to Mathematics.

Pages of Kannada medium Mathematics textbook for the eighth standard are printed from page 51 to 66. The Kannada language lessons are continued from page number 19. Mathematics lessons are printed after page 82.

Lessons missing : The second lesson 'Kanasu and sandesha' is completely missing. There are only some pages of the third lesson 'Gandhijiya Balya Patha'.

The last page of poetry section is absent. Poems 'Harida Hakkigalu; 'Jyothiye Agu Jagakella' are missing. The beginning page of 'Nanna Hageye' poem is absent. In some textbooks, the first page itself is missing.

Ninth standard lesson 'Aralikatte' has been printed instead of the second lesson 'Asi-Masi-Krishi', in the tenth standard second language Kannada textbook. There lessons are repeated in English medium Science textbooks of seventh standard as well.

The parents and teachers of the students have been cursing the Education Department for the blunders.

The teachers are facing a huge inconvenience while conducting classes.

The department concerned has exhibited a total negligence in printing and distributing proper textbooks, they said and urged for the withdrawal of faulty textbooks after replacing them with proper copies.


Parents miffed byClass IX lesson :

Puttur : Most parents are agitated by the activities suggested for students in the Social Science textbook (state syllabus) for Class IX.

The first part of the textbook (both Kannada and English)contains a chapter on Christianity and Islam. In the activities part, the students are suggested to visit churches and mosques and write on rituals. Some parents alleged that lesson "glorifies" the religions and that there was no mention about the Hindu religion, which has hurt the sentiments of some people, they claimed.

Some Hindu leaders said that the lesson and the activities suggested in the lesson convey a wrong message to the students. "All religions are equal in a secular state. There is no need to have lessons on select religions. Reading such lessons may leave a bad impact on students. Instead of teaching students about communal harmony, the textbook committee is injecting communal hatred into the minds of the students," the parents and Hindu activists said.

Hindu leader Arun Kumar Puttila of Puttur has warned of staging protests if the lesson was not withdrawn. The introduction of this lesson has also gone viral on social media.

Write Comment
|

E-Mail
|
Facebook
|

Twitter
|

Print