Blood donation camp at coast guard station karwar
Mangalore Today News Network
Karwar, Jan 23, 2018: To commemorate the 41ST Anniversary of Indian Coast Guard, ICGS Karwar organized a blood donation camp in co-ordination with the staff of Karwar Medical Institute of Science (KAIMS) at Indian Coast Guard Station Karwar on 22 Jan 18.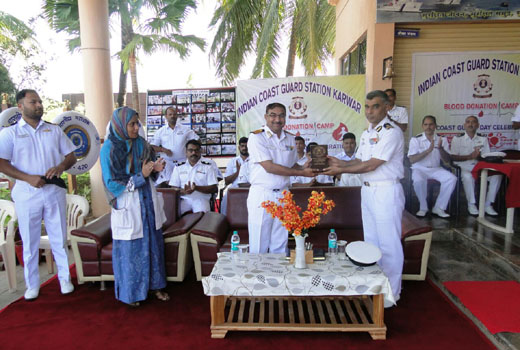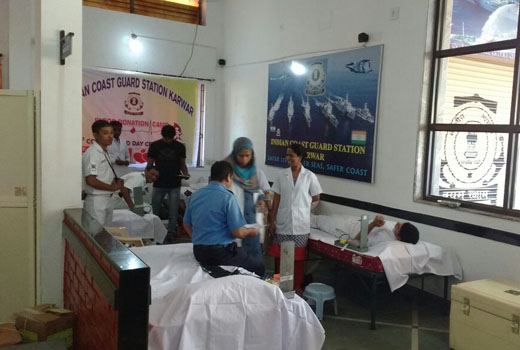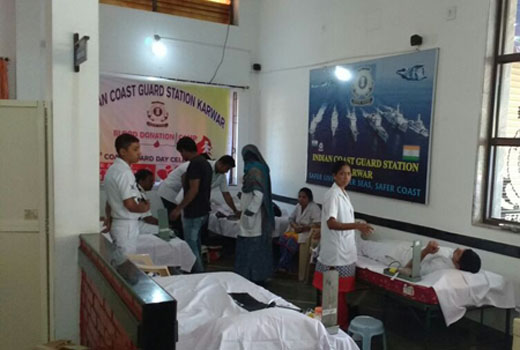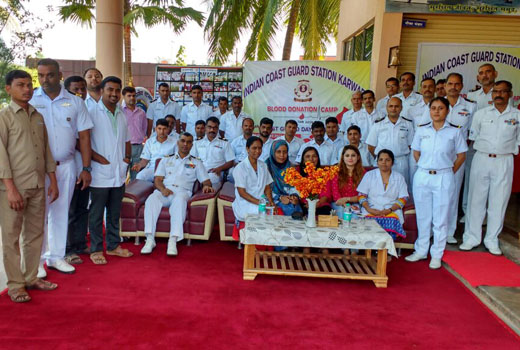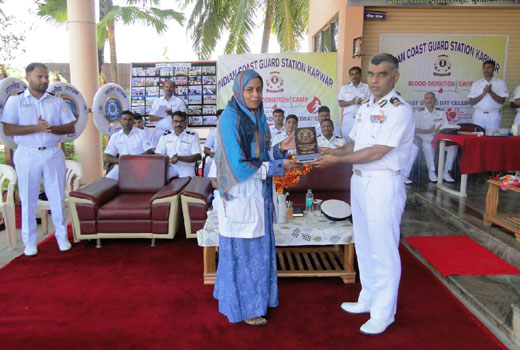 The event was inaugurated with lighting up of lamp by Commandant Mk Sharma, Commanding Officer ICGS Karwar and Dr. Rijwan, Medical Officer KAIMS, Karwar. On this occasion, Dr Rijwan brought the importance of blood donation. Many people have misunderstandings about blood donation. They feel by donating blood they will fall sick. But it is not like so, the donated blood will automatically regenerate by our body itself within four to five hours after donating the blood. A person will be prohibited from donating blood if he drank alcohol during the last six hours. She impressed to put our hands together and make a promise to donate blood at least once in a year.

To culminate the event Surgeon Captain Rajeev Deo, Commanding Officer Indian Naval Hospital Patanjali also graced the occasion and visited ICGS Karwar to motivate the Blood Donors of Indian Coast Guard. Coast Guard personnel actively donated the blood and about 30 personnel volunteered for this humane cause. Dr. Rizwan encouraged donors by highlighting that it is a very big donation. It could save someone's precious life, could light family's lamp and could give happiness to a family. All Participants were given certificates to mark their contributions towards this noble cause. CG expressed their resolve to donate blood to the needy whenever required by district Hospital at Karwar.

The doctors on the occasion examined the personnel before taking blood. Commanding officer ICGS Karwar Comdt MK Sharma encouraged everyone to take part in such good deeds. He also appreciated the great service of the personnel. He also impressed and stated that blood donation is one of the noblest and greatest donations a man can make. Blood is our life-sap. It has no substitute. Doctors need blood for transfusing it in the body of persons after operation and similar situations when a lot of blood flows out of the person's body. We have one life and let us make our one life more meaningful by donating blood. Blood donation is the mother of all donations. Blood donation directly gives life to another human being. It not only saves one individual but also the entire family of that individual. A person can donate blood thrice in a year.

The Coast Guard Blood donation camp was organised for the first time since its inception at Karwar and such many programs are being organized to spread awareness regarding importance of blood donation and various issues related to Fishermen, safety and security, saving of natural resources of sea etc.

Recognising the efforts of KAIMS Karwar, a crest was presented to Dr Rijwan and to the Hospital. Surgeon Captain Rajeev Deo, Commanding Officer

Indian Naval Hospital Patanjali was also presented a crest for their contribution for health care. Concluding the Blood Donation Camp, Commandant MK Sharma Commanding Officer, ICGS Karwar emphasised that we should all come forward and donate blood if we are able-bodied because this one simple action would speak for itself about our gentleness, fellow-feelings, kindness and love for humanity. God has created life in this world. By donating blood to the life in need of blood, we save God's children. Hence by serving man, we serve God.




Write Comment
|

E-Mail
|
Facebook
|

Twitter
|

Print