Better moral and spiritual values needed for teachers today
Mangalore Today News Network
Mangalore, Sep 12, 2014: Ramakrishna Ashram (Mysore) President Swami Muktidanandaji, who was the chief guest at 'Medha,' aworkshop for BEd students at Ramakrishna Mutt in Mangalore on Sept 10, stated that Teachers need spiritual training to motivate students to their highest potential .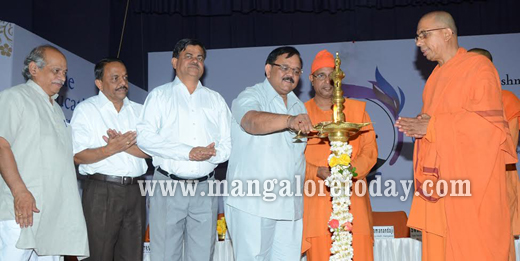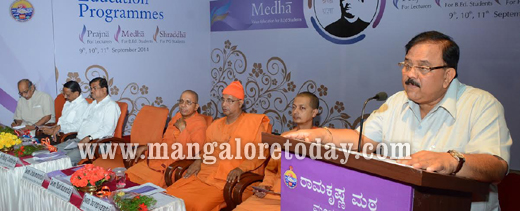 Stressing on concern over the fall of moral values in society, he said the negligence towards spiritual values is the root cause of all problems.
Values are equivalent to the virtues of a human being. As Vivekananda said, education is more important than religion. The real education should not only bring body, mind and soul together but also should unfold divinity from within.

Students should be trained to bring out the hidden knowledge through self actualisation. Hence, teachers need to know more about the power of mind and spirituality, to be inspirational to students, Muktidanandaji said and added that spirituality is not only about meditation but is related to the virtue of an individual. He suggested the B Ed students to develop techniques and form a complimentary syllabus, through which they can impart value education along with school curriculum.

KIOCL CMD Malay Chatterjee in his inaugural speech, pointing out the loopholes in the current pattern of education, said that today education is synonymous with job finding and there is no evolution beyond it. There is an absence of holistic approach, he said.

He further said that education system should be related to inner soul rather than the outer world. Real education should make one happy and contended. For this, there is a need to impart value education, which helps to know the self. Such value education should be introduced at primary level to help children set anoble goal.

Also, value based education to the members of society should be seen as a permanent investment towards developing universal perception. Teachers have the responsibility to set a precision in students' lives. Teachers are meant to eradicate spiritual blindness, Chatterjee added.

Scholarships were distributed to meritorious students on the occasion. Ramakrishna Mutt, Mangalore President Swami Jithakamanandaji delivered the keynote address. Acharya of Belur Mutt Probationers' Training Centre (Howrah) Swami Sarvapriyanandaji, Human Networking Academy (Bangalore) Director Prof K Raghottam Rao, Suresh Kulkarni and Dr K Devaraj were present.




Write Comment
|

E-Mail
|
Facebook
|

Twitter
|

Print