Bethany tribute to Servant of God Raymond Mascarenhas
Mangalore Today News Network
Mangaluru Dec 24, 2017: The 57 th Death Anniversary of Mgr. Raymond F C Mascarenhas, the first Mangalorean officially on the path to sainthood. He is the first Parish Priest and builder of St Sebastian Church, Bendur, Bethany Congregation and Bethany Educational Society. December 23, marked his death anniversary celebrated in St Sebastian Church Bendur with Holy Eucharist officiated by Most Rev Dr Aloysius P D' Souza, Bishop of Mangalore. It was concelebrated by the Vicar General of the Diocese of Mangalore, Episcopal Vicar for Religious, and fifteen other priests.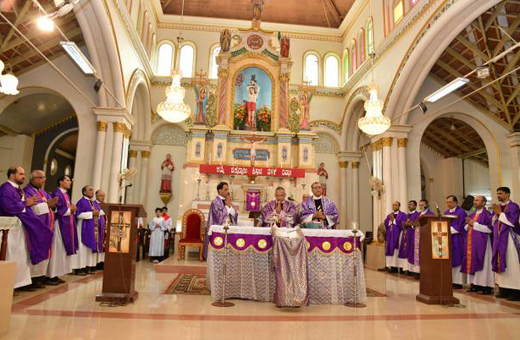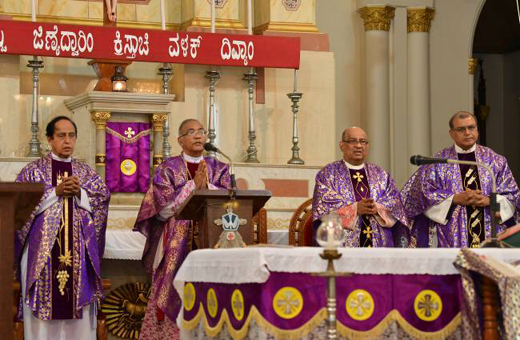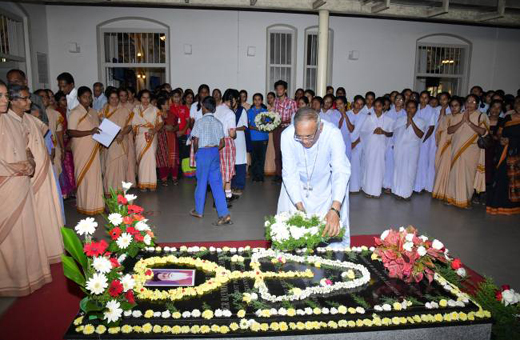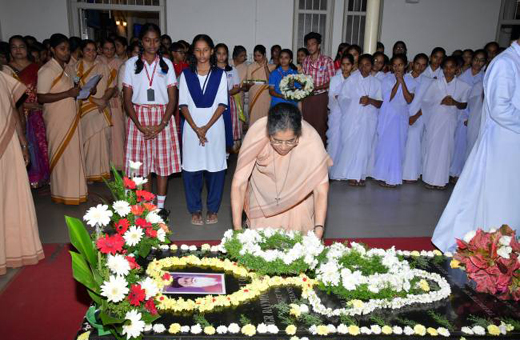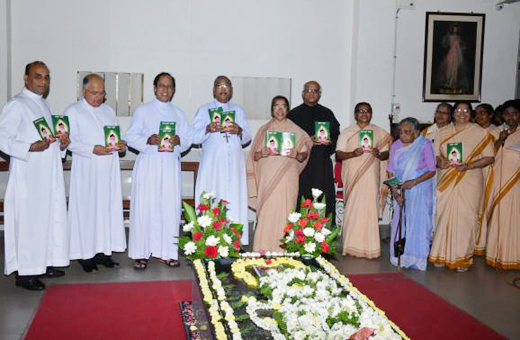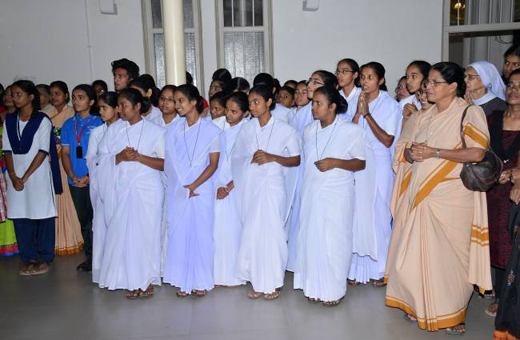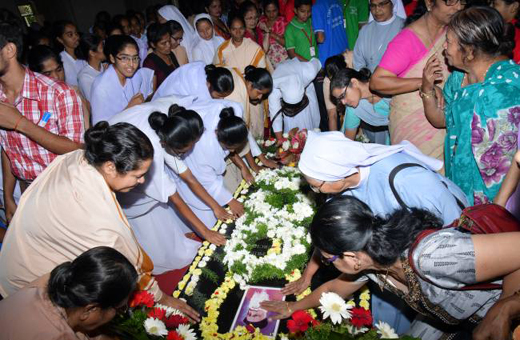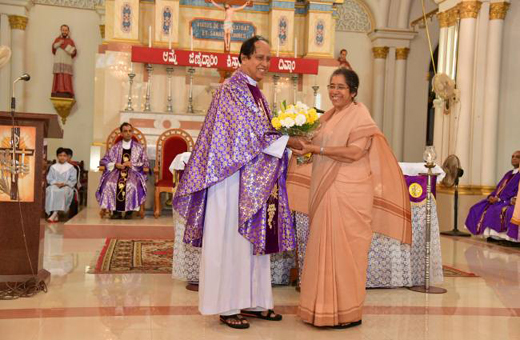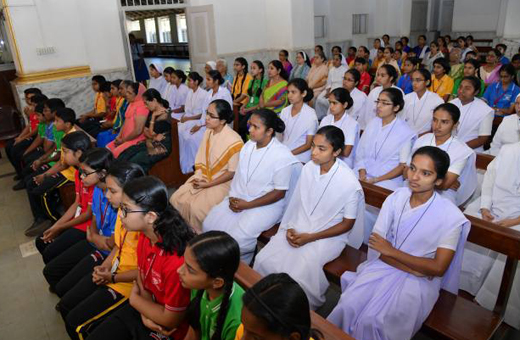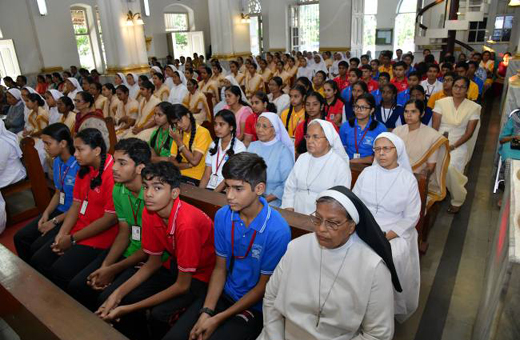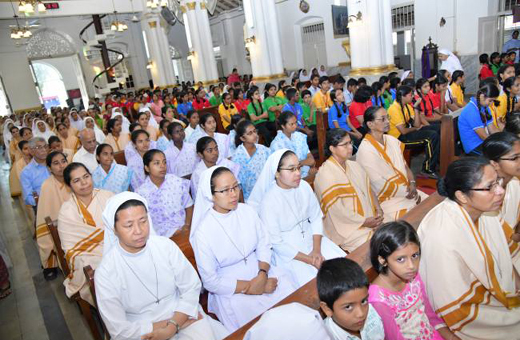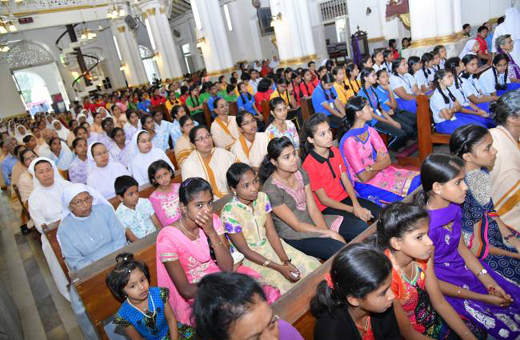 The oration by Rev Fr Joseph Martis the Rector of St Joseph's Inter-Diocesan Seminary spotlighted the fact that the death of Mgr Raymond was his birth true birth. He highlghted Mgr Raymond's holiness of life and the commendable service to the humanity.

The programme was attended by Sr Rose Celine, the Superior General of Bethany congregation, her councillors, and people from different parishes of Mangalore, Bethany students and Bethany Associates. Rev Bishop Aloysius, Sr Rose Celine, the Superior General and Fr. Antony Shera, the Parish Priest of Bendur offered floral tributes to the Servant of God at his tomb.

A Konkani as well as Kannada translation of the pictorial biography of the Servant of God authored by Sr Mable Antony was released on this occasion by Bishop Aloysius and Vicar General respectively. Sr. Rose Celine felicitated the Vicar General the golden jubilarian.

Recap on the 'Servant of God' :
Msgr Raymond Mascarenhas, 1875 - 1960, did studies at Milagres and later at the famous Jesuit St.Aloysius of Mangalore, he joined the St.Joseph's Seminary at Jeppu . He was an extraordinarily gifted scholar and was anointed a Priest on March 4, 1900. Many have testified that 'Servant of God' Raymond, was glowing with zealous holiness even from the early days of priesthood.

As a young priest he served at Milagres in Mangalore and Kallianpur. In 1903 he was for the first time appointed Parish Priest at Udayavar a poor and out laying place in those times. His high reputation he requisitioned to the new parish of Bendur, a barren place,as it's first parish priest. It is seen that in the 17 years, till 1931 that he spent at Bendur, it became a true Catholic center of faith and development. Among his many achievements one is considered founding the only indigenous order of nuns at Bendur Mangalore under the name of "Sisters of the Little flower of Bethany - BS". 1931 saw him a leading priest of the Diocese of Mangalore – God had greater plans for him and he was not appointed Bishop as expected, but accepted the role of Vicar General until he voluntarily retired in 1941, to guide and shape his beloved brain child "Bethany Sisters". The people of Mangalore are ever grateful to him for encouraging the setting up of the first 'St Vincent de Paul' unit at Bendur in 1926, supported by prominent persons who worked in Bombay. In 1955, recognizing Msgr.Mascarenhas' singular services the then Bishop Rt.Rev Basil Peres recommended him to the Holy See and he was granted the honour of "Domestic Prelate" which is a special recognition for the clergy equivalent to a 'knight'.

Foundation of Bethany (1921-31): His magnum opus will always be, founding the only indigenous order of nuns at Bendur Mangalore under the name of "Sisters of the Little flower of Bethany" on July 16, 1921, now in it's pre -century decade. Today, the Bethany Congregation is a model of high religious standards and learning, spread over India and parts of the world. Basically comprising near 1,700 nuns, 185 communities in 50 plus diocese in India and 9 diocese abroad. The nuns render yeoman service in women's welfare, health care, geriatric care, and so on - in particular education.

Death - Dec 23, 1960: Many older Mangaloreans are aware that Msgr. Raymond in his holiness and goodness towards one and all, as often the case is with holy men and even Christ, faced intense sufferings for the glory of God. Sadly in March 1960, he was struck down by a paralytic stroke that left him bound to his bed in the Cottage at Bethany till his heroic death on December 23, 1960. Today these places are sacred to his devotees who visit them to ask for miracles. List of a great number of witnesses have been submitted in the cause of his sainthood. Most of them are eye witnesses and were interviewed in a systematic manner with their testimonies running into thousands of pages. The main steps on the journey to sainthood in the church are three - 'Servant of God' 'Venerable' and 'Blessed'. Hopefully Mangalore will have it's own son a saint in the church soon.

Write Comment
|

E-Mail
|
Facebook
|

Twitter
|

Print