Bengaluru-Karwar night express diversion , shortest route recommended
Mangalore Today News Network
Karwar, Sep 28, 2017: Responding to overwhelming public demand to speed up Bengaluru-Karwar/ Kannur night Express, South Western Railway has recommended to the Railway Board to divert the train via the newly commissioned Bengluru-Shravanabelagola-Hassan line four days in a week. During the remaining days of the week, the train is proposed to be operated via Mysuru, the existing route.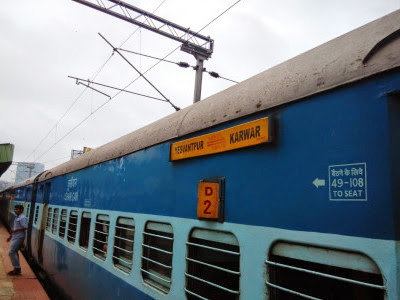 The diversion via Shravanabelagola thus reduces the travel distance by about 90 km. The railroad distance between Bengaluru and Mangaluru Central is about 447 km and via Mysuru and about 357 km via Shravanagelagola. SWR's Chief Public Relations Officer E. Vijaya told The Hindu that the proposal was sent to the Board about a fortnight ago. Only when the Board approves the same, the diversion can take place, she said. Ms. Vijaya added that the journey time between Bengaluru and Karwar is expected to come down by two hours.

At present, Train No. 16523 Bengaluru-Karwar Express along with Bengaluru-Kannur Express (16517) leaves Bengluru at 8.30 p.m. reaching Mangaluru Central at 8.15 a.m. the next day. It leaves Central at 9 a.m. to reach Karwar at 2.35 p.m. In the return direction, Train No. 16524 leaves Karwar at 2.55 p.m. to reach Mangaluru Central at 8.10 p.m. It, along with Kannur-Bengaluru City Express (16518), departs Central at 8.55 p.m. to reach Bengaluru at 8.20 a.m. Sources in Railways said there may not be any advancement in the arrival timing of the Karwar Express either at Mangaluru Central or Karwar. Instead, the train is likely to depart late, at around 10.20 p.m. instead of the present 8.30 a.m., from Bengaluru. However, there could be some changes in the arrival timing of the train at Bengaluru, though its departure timings at Karwar and Mangaluru Central are likely to remain the same.

The West Coast Rail Yatri Abhivriddhi Sangha, however, had proposed that the train proposed on the shortest route could depart Bengaluru at 8.10 p.m. to reach Mangaluru Central at 6.35 a.m. and Karwar at 12.10 p.m. It wanted the train to leave Karwar at 2.30 p.m. and Mangaluru Central at 8.15 p.m. to reach Bengaluru at 6.20 a.m. It had suggested the train could start and culminate at Mysuru.

Write Comment
|

E-Mail
|
Facebook
|

Twitter
|

Print