Belthangady land holders rue the loss of farm land for gas pipeline
Mangalore Today News Network
Mangalore, Aug 18, 2014: The sad tale of farmers who will lose land for proposed HPCL gas pipeline on Mangalore-Hassan-Mysore Soloor line via Neriya-Pilikkala-Puduvettu in Belthangady taluk is crying for justice. Already diesel-petrol pipeline of Petronet is passing through the villages.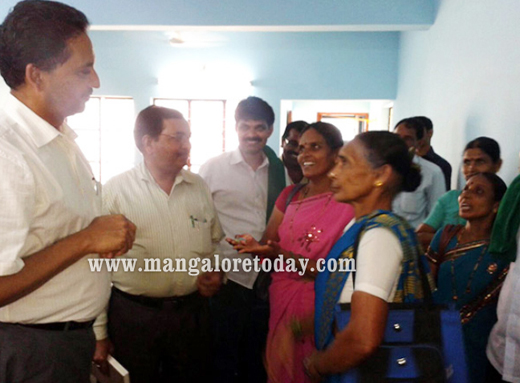 Rajya Raitha Sangha Hasiru Sene Puduvettu-Neriya zone President Venkappa said, "we have been protesting against the proposed line for the last three years. The officials were conducing the survey without any information to us.
They have mislead us badly. We do not want compensation, instead we want our land which is our livelihood and dignity." he said, "we want our farm land without disturbance.
We had appealed to the Chief Minister and other elected representatives. However, all our efforts have fallen on deaf ears." He said that, they have opposed the move to identify land in a paddy field for constructing a pumphouse. The pipeline path of Petronet is 18 metre wide. There is a need for six metre wide land for laying the pipeline adjacent to Petronet.
the loss is 26 metre wide land for the pipelines. We can grow only short term crops. About 86 families will be affected and six houses will have to be demolished. Many present gave the story of their sad plight with tears in their eyes.

One farmer asked, "We did not have information when the pipelines were laid. A few of those who had lost their land for Petronet pipeline are yet to get compensation.
Apart from HPCL, Relogistic Infrastructure (Mangalore-Bangalore-Chennai) and Mangalore-Chitradurga pipeline will also be laid. Why all the pipelines should pass through our land. Why our village should bear the brunt of development," ask farmers. The rule that in the three kilomtre radius of the pumphouse, there should not be any habitation will cause a lot of upheaval.
Where should farmers who are traditional residents go? said Raitha Sangha treasurer Manoj. Compensations are another matter of contention which are never resolved, rates announced never materialise.

Announced Rates : Earlier rates : 1coconut tree— `1,800 1arecanut tree— `1,300 1rubber tree— `2,000 1acre patta land— `1.80 la
Final compensation 1coconut tree— `18,000 1arecanut tree— `15,000 1rubber tree—`21,000 1acre land— `35 lakh.

Write Comment
|

E-Mail
|
Facebook
|

Twitter
|

Print