Belthangady: BJP strongly condemns attack on farmers by police.
Mangalore Today Network-1
Mangaluru: July 3, 2015: The BJP District president, Prathap Simha Nayak held a press meet at BJP Party office on Thursday at Kodialbail
Speaking to the media personals, Pratap Simha said the sessions have commenced in parliament and Assembly on the issues of Farmers committing suicide.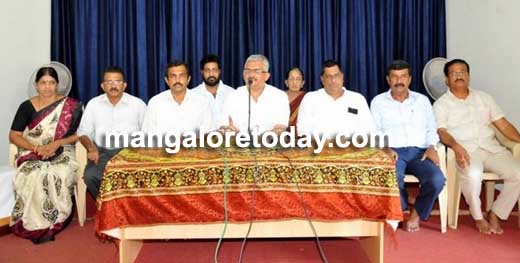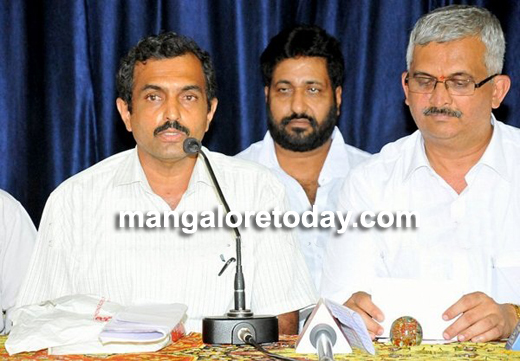 Meanwhile at Belthangady Taluk, the farmers were allegedly assaulted by the police and the revenue department. It is sad that even a 70 year old woman was assaulted. This is the shameful act by the department and BJP condemns the incident", he said.
The Victim, Keshav Rao who was present at the pressmeet said,"I am a son of a farmer, and our family has been involved in farming since very long time. We have 5.6 acres of Patta land in Hartyadka under survey number 12/1, in which we have cultivated through Mulageni. And as per the 1974 Land Act, we have applied for the ownership of said land.

In the year 1981 we were granted ownership for the land and since then we have been growing coconut, arecanut and rice paddy and also grown rubber arecanut in the Kumki land. In the year 1992 me, my father Krishna Rao, mother S Lakshmi had applied for the land rights of the Kumki land as per the law under the Akrama Sakrama Act (form no 50).

In 1998 we again applied for the same land. The papers and documents are ready but the Tahsildar said that the Assistant commissioner had questioned about the excess land. The application was then submitted to Assistant commissioner and it is under investigation.

During 1999-2000, the panchayat planned to build a crematorium in the said land and in 1991 mutation of the land was also done but without our knowledge.

In 2007 when the revenue department took the measurement of the land, we understood that a crematorium would be built in the land. When we applied for clarification through RTI, the assistant commissioner said that the documents are in the high court. We requested the revenue department to build the crematorium on the on the other side of the road."
I have given a complaint to the Lokayukta demanding a suitable probe against Arasinamakki Gram Panchayat. But in order to slander me, Arasinamakki Gram Panchayat decided to build crematorium.
On June 29, 11 am, they brought JCB and started destroying the land. They destroyed 50 trees. We were forcefully knocked down and dragged to the police station for objecting to it. They assaulted my brother and my 70 year old mother. The police filed a case under section 333 against us", he said.
He further said "We have no other resources left, we urge BJP government to look into the matter and request the government"
Kishore Rai, Prabja Malini, Nitin Kumar, Chandrahas Ullal were present.

Write Comment
|

E-Mail
|
Facebook
|

Twitter
|

Print